Design West, the Bristol-based centre of excellence for architectural design and placemaking, has appointed a new chair of trustees as it enters a new phase of growth.
Nick Fairham, pictured, chief executive of global multidisciplinary design practice BDP based in its Bristol office, takes over from Nick Childs, the founder of Bristol architectural firm Childs Sulzmann, who has chaired the board for six years.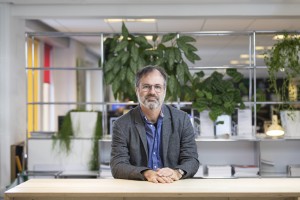 Design West, which rebranded two years ago from its original name of The Architecture Centre, was founded in 1996 with a mission to inspire the public, politicians and professionals across the built environment to design better, healthier places to live, work and relax. It also owns café/bar The Architect on Narrow Quay, which forms part of its head office.
The registered charity said Nick Fairham had taken over as chair of trustees at a crucial time as it grows its design review and placemaking services, expands its public programme of talks and continues to provide a vibrant home for design across the South West.
It added that Nick's leadership drew on strategic thinking and creativity, with an approach that inspires a clarity of integrated thinking across his global network, combining the functional and experiential in design.
He has more than 27 years' national and international experience, particularly in the field of healthcare design, focusing mainly on large scale acute hospitals.
He has led design teams on major commissions in the UK and internationally, including Bristol's award-winning Southmead Hospital, the Grange University Hospital near Newport, and Musgrove Park Hospital in Taunton. He became chief executive of BDP two years ago.
Design West described his projects as "thoughtful and responsive to the needs of his clients and a genuine pleasure for all users."
Nick said that Design West played an invaluable role in helping to shape Bristol and the wider region into the sort of place that was fit for the future, taking on board the needs of citizens in an equitable and socially responsible way.
"By bringing together a diverse range of professionals from the built environment, the public, politicians, developers and stakeholders, the organisation facilitates rounded conversations which take a wide range of views into account," he added.
"There's a lot of synergy between the role I currently do at BDP and the role at Design West and I felt I could add value by sharing best practice in a city and region I call my home."
Design West director Anna Rutherford said: "The design of our built and natural environment has a profound impact on all our lives on a daily basis, from the quality of the homes we live in, the design of our commutes and communities, schools and hospitals, and the public realm we share.
"Nick brings his international experience and local knowledge to the role of chair at an important time for Design West as we expand and develop our remit inspiring, informing and involving people in the design of the world around them and we look forward to benefiting from the insight he can bring to our organisation."
Founded in 1961, BDP employs architects, engineers, designers and urbanists across its studios in the UK, Ireland, Netherlands, UAE, India, China, Singapore and Canada.
It has a strong track record in all major sectors including health, education, workplace, retail, urbanism, heritage, housing, transport and leisure and has won more than 1,000 awards for design quality.