Bristol businesses were today urged to support an initiative that rehabilitates young men in prison as a key way of tackling crime in the region.
Key4Life has an unrivalled track record for working with inmates or young men risk of going to prison, providing real solutions to help reduce youth offending.  
Representatives of a range of Bristol firms as well as dignitaries were given an overview of Key4Life's rehabilitation programmes and how they can help support the charity to combat crime at this morning's meeting at accountancy group KPMG's Bristol office.
Renowned for its pioneering equine therapy and employability training within its innovative seven-step programme, the charity's reoffending rate is a maximum of 14% compared to a national average of 64%.
A minimum of 60% of the charity's graduates are gainfully employed, versus a national average of 15%.
Three graduates of the Key4Life programme who are now gainfully employed – Steve, who  is working in construction, Callum, an artisan baker, and James, who is setting up his own coffee business – shared their turnaround stories at today's event.
In addition, two young men enrolled on Key4Life's current Bristol programme, Zac and James – both living in homeless hostels – talked about the challenges they face.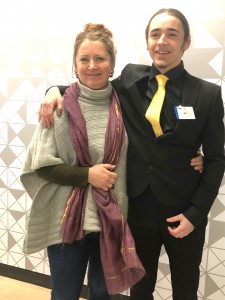 Natalia Colville, a volunteer on Key4Life's Bristol programme and mother of Zac, pictured, also spoke at the gathering.
She said: "I am so grateful to Key4Life for all the charity is doing for the young people it works with.
"Zac has been the most positive and happy I have seen him for years since he started the programme. Key4Life is providing such an important step on his path and I can't tell you how much it means for a mother."
KPMG UK partner and head of government Nicholas Fox added: "Key4Life's rehabilitation programmes have turned around the lives of some of the most marginalised young men in London and the South West.
"KPMG UK is proud to have worked with Key4Life since 2017, delivering both mentoring and impact coaching to help former offenders obtain crucial employability skills, and by extension go on to attain gainful employment.
"It's support like this that provides ex-offenders with an invaluable second chance to build a life of purpose and integrity, and it was an honour to bring so many businesses together today to get involved."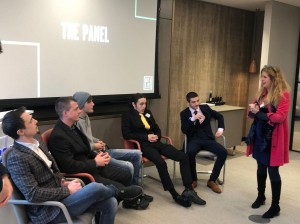 Key4Life CEO Eva Hamilton MBE, pictured with the panel, described the charity's partnership with KPMG UK over the past five years as extraordinary – working together in prisons, in the community, helping with mentoring and supporting its young men to get jobs.
"They have led the way in the criminal justice arena like we have never seen before, and they are total trailblazers within the social justice sector. We are hugely grateful for all KPMG have done to help break the cycle of crime," she added.
The business breakfast came hot on the heels of Key4Life completing a highly successful six-month rehabilitation programme in Bristol last month for young men at risk of offending – 81% of the young men on the programme are now in employment, education or training, with many working for respected companies such as Yeo Valley, Voi Scooters and Willmott Dixon.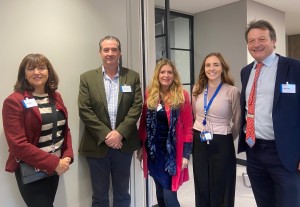 Key4Life has also just started facilitating its first place-based programme in Bristol which aims to transform the whole community of Easton.
Approximately £13.46 of social value is generated for every £1 spent on Key4Life. And with research stating that 50% of corporate Britain would not hire ex-offenders, Key4Life's YOUNITED Flag Award is driving social change in the business world by encouraging businesses to employ ex-offenders.
Liam Meredith, a Key Mentor for Key4Life supporting other ex-offenders to turn their lives around, who chaired the panel at today's event, said: "With reoffending costing the UK £18.1bn a year, employment is the glue that keeps young men away from a life of crime and we urge more businesses in the Bristol area to offer employment opportunities to ex-offenders."
Pictured at the event: Anne Nisbet, chair, The Nisbet Trust; Karl Tucker, managing director, Yeo Valley; Key4Life CEO Eva Hamilton MBE; Thea Tominson, management consultant at KPMG; and David Brown OBE, CEO, The Bristol Port Company