Start-ups committed to social change are being given the chance to win a desk at Bristol's ground-breaking workspace Streamline at Paintworks.
Streamline owner Ethical Property has launched a 'Care to Share' competition offering free office space for a year to a purpose and cause related start-up, giving it the chance to work among likeminded organisations and individuals.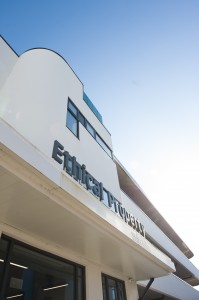 The firm, which owns and manages 19 centres across nine UK cities – including three in Bristol – is staging the contest as more people are moving back to workspaces from full-time home working.
The competition is offering changemakers, whether start-ups, NGOs, charities or solo organisations, the chance to win one of two prizes.
The first is a desk space for one or two people for a year, and the second a desk space for one or two people for three months. Firms or individuals have until midnight on 25 May to enter.
The chosen organisations will also be given access to Ethical Property's monthly networking, webinar and events series called 'Exchangers'.
The winners' desk spaces will be in the Share Bristol space at Streamline, pictured, an open-plan space housing a variety of ethical organisations at the Paintworks hub on Bath Road.
The art deco inspired building also has a range of enclosed office spaces, with capacities ranging from four to 60 people and 14 sq m to 290 sq m to accommodate 'changemaker' organisations.
It features state-of-the-art facilities including bike storage, showers and 24-hour secure access. Occupiers include Bristol Green Capital, Streets reimagined and charity Legs for Africa.
Ethical Property regional manager South West and Wales Sarah Campbell said: "We know that the past two years have been incredibly tough for many, with organisations facing financial challenges that have forced them out of workspaces, and into working disparately.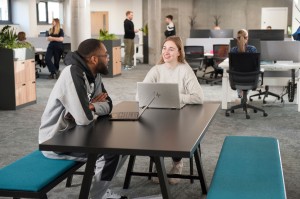 "Bristol is brimming with vibrant and forward-thinking organisations; social enterprises, changemakers and businesses with real purpose.
"We want to give these people a chance to enhance their working environment with one that inspires creative thinking."
She said the business also understood that there were still barriers that existed to those with disabilities.
"Our whole ethos is one of inclusivity; reflected in the accessible design of all our sites," she added.
"This is a great opportunity to be a part of a truly special environment and use that to help to grow and motivate real change and positive work.
"Entry is simple and can be done online, explaining a bit about your work and why you think you'd benefit from this prize, and fit with the Ethical Property ethos."
Entry is via a simple and quick online survey - https://www.ethicalproperty.co.uk/share-desk-competition
Ethical Property defines changemaker organisations and sole traders as those with a positive impact on the world around them.
For the purpose of this competition these included – but are not limited to – charities, not-for-profits (including sole traders), B Corps, social enterprises, consultants and small businesses that have a positive impact. Current Ethical Property tenants and their networks are also eligible to enter.