Bristol firms are being offer the chance to take part in the city's next public sculpture trail by sponsoring one of 50 unicorns that will be sited around the city next year.
The project, which follows the highly successful Wow! Gorillas of 2011 and the two Gromit Unleashed trails of 2013 and 2018, will coincide with the 650th anniversary of Bristol becoming a city and county.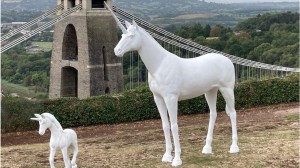 Unicorns have been chosen as they have been used as a symbol for the city since 1569 and appear on the city's official coat of arms.
As with the previous sculpture trails, firms are being offered a range of corporate sponsorship packages, including Gold and Platinum packages – priced at £6,000 and £10,000 respectively – Presentation Partner and overall 'Mane' event sponsorship, which costs £50,000.
The high profile, nine-week trail will end with a Unicornfest Auction Preview Festival for unicorn fans of all ages to say their final farewells before the unicorns are auctioned off to raise funds for Leukaemia Care.
The trail, which had its launch yesterday at Bristol's Circomedia circus school and performance space, is already being backed by a number of firms, including the first three Unicorn sponsors fast-growing Bristol eCommerce fulfilment tech provider Huboo, Bristol caravan firm Bailey and Puxton Park, the adventure park at Banwell, North Somerset.
Other partners include Bristol PR agency Purplefish and Bath software developer Rocketmakers, which is developing the trail app, removals firm Go Panda and The Galleries shopping centre, which will act as the 'stables' for the unicorns before they are taken to their locations.
It is also being backed by Bristol Ideas, Visit West, Business West and Bridging Histories.
Leukaemia Care CEO Zack Pemberton-Whiteley said: "The aim of this exciting, high-profile, public art event is to celebrate Bristol's unique heritage.
"Bristol has a long history with unicorns and we want to recognise that through fantastic artwork and storytelling about the city."
For more information about how you can get involved, you can download the sponsor pack at www.theunicornfest.co.uk