From Bristol24-7 www.bristol247.com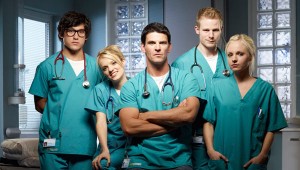 As the long-running BBC medical drama Casualty spends its last day in Bristol today, it is claimed the move to Cardiff will cost the city's economy £25m.
The series began life in 1986 and, in more than 780 episodes, actors including Kate Winslet, Orlando Bloom and the late Pete Postlethwaite have been to the city to star in the show.
The cameras roll for the final time in Bristol later today, as the programme – inextricably linked with the city – is moving to Cardiff Bay in September.
In 2009 the BBC formally announced it would move the programme to Cardiff as part of plans to increase network TV production from the UK nations and regions.
The regional screen agency South West Screen has sent its thanks to the BBC drama for the contribution it has made to the region's industry, and said it aimed to look forwards rather than bemoan the loss of the TV favourite.
Acting CEO Mehjabeen Price said: "Casualty has made Bristol its home for 25 years, and has been a valuable asset to our region's industry. As we made clear from the outset, we did not want the long-standing drama to leave Bristol, and we are very sad to see it go. However, the BBC made its reasons for the move clear and we must concentrate on looking forwards, not backwards.
"We want to make it clear that Bristol remains an excellent home for good drama, with strong infrastructure and expert local crew base. Since Casualty's move was announced we have been working with Bristol City Council and the South West RDA to boost the city's reputation even further by developing The Bottle Yard in Hengrove.
"Since opening for business last year, we estimate that this dedicated production facility has brought in more than £8m of inward investment into Bristol, which is a fantastic start.
"We are pleased that the BBC has demonstrated its commitment to keeping drama production in Bristol, by choosing to shoot new dramas Dirk Gently, Inside Men and Public Enemies at The Bottle Yard. The site is also being used for some of Casualty's final scenes, and continues to attract productions from elsewhere, such as Sky HD's comedy Trollied starring Jane Horrocks which shot recently.
"South West Screen will continue to work hard to attract productions to Bristol and the South West. We send our thanks to Casualty for the benefits it has brought to Bristol over its lifetime."