Property consultancy Carter Jonas marked the third anniversary of the launch of its Bristol hub with a reception attended by more than 150 members of the city's business community.
The event at the Bristol Museum & Art Gallery gave the Carter Jonas Bristol team, led by Andrew Hardwick, pictured, and Philip Marshall, an opportunity to thank colleagues and clients for their support as the firm continues to expand its services and geographical reach.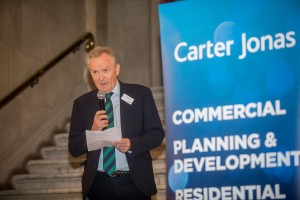 Carter Jonas relocated its Bristol and Bath professional services teams to Clifton in 2019 following the acquisition of long-established, single-office Bristol agency Williams Gunter Hardwick.
The base in St Catherine's Court, Berkeley Place, opened with 30 people and since expanded to be more than 50-strong as Carter Jonas has significantly grown its presence in the region.
The team covers a wide range of specialisations ranging from building consultancy, valuation, lease consultancy and planning and development to master planning, infrastructures and agency services across the commercial, retail, industrial and rural sectors.
Carter Jonas Bristol partner Andrew Hardwick said he and the team felt incredibly lucky to have had the chance to greet so many guests in person and thank them for their support and encouragement since the opening of the office in Clifton.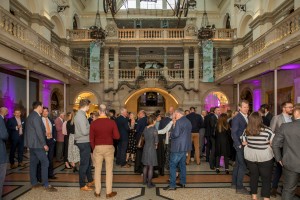 "Bristol is one of Carter Jonas' fastest-growing offices and this milestone provides an opportune moment to reflect on how far we've come and look ahead to developing our business further," he told the gathering.
"Some standout examples include the growth of our planning and development team – which has increased seven-fold and now includes master planning expertise – and welcomed a new infrastructures team.
"We have similarly grown our industrial teams, alongside commercial agency, building consultancy and valuation services."
He said the team was fortunate to have had established connections within Bristol when the office first opened, and its continued growth was in a large part thanks to the trust its clients placed in it, alongside the team's commitment to delivering the best work.
"We look forward to many more years in the city as we continue to invest in our people to provide innovative solutions for our clients across the South West, helping to enhance our built environment and support this innovative and fast-paced market," he added.
The firm works across various sectors including residential, farms and estates, development land, offices, industrial and retail buildings
Carter Jonas has a network of 33 offices and 700 people across England and Wales, helps its clients sell, let, manage and add value to their properties. The firm works across various sectors including residential, farms and estates, development land, offices, industrial and retail buildings