Bristol Airport has reduced the time it expects to take to become carbon neutral by five years as it continues to come under attack from environmentalists over its ambitious expansion plans.
The airport is now aiming to be a carbon neutral by 2025 instead of its original date of 2030. It said the move would also make it consistent with the climate emergencies declared by Bristol City Council and the West of England Combined Authority. 
In a carbon road map published this week, the airport set out how it will achieve carbon neutrality. It sets ambitious targets which would put it at the forefront of carbon reduction in the UK airport sector, including emissions from aircraft.
According to the Air Transport Action Group, which represents the air transport industry, global aviation industry produces around 2% of all human-induced carbon dioxide (CO2) emissions.
Aviation is responsible for 12% of CO2 emissions from all transport sources, compared to 74% from road transport.
The airport set the 2030 target for all emissions under its direct control – primarily from electricity, gas and ground vehicles – two years ago.
The new roadmap brings this forward to 2025 and will be achieved through a range of measures including increased use of electric vehicles and a shift to renewable energy sources.
The airport said its ultimate objective was to become net zero by 2050 in line with the commitment made by the European airport industry last month, to which Bristol was among the first signatories.
As well as addressing direct emissions, the new roadmap sets out how the impact of passenger travel to the airport and emissions from flights will be tackled. Emissions from road journeys will be offset by a new carbon levy on vehicles using the express drop-off – the least sustainable way to get to the airport.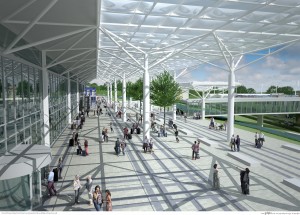 When it is introduced later this year, the proceeds of the levy will be used to offset emissions from all surface access journeys. Emissions from flights will be tackled through the Carbon Offsetting and Reduction Scheme for International Aviation (CORSIA) which will commence in 2021 with the aim of stabilising emissions from international aviation at 2020 levels.
Bristol Airport chief executive officer Dave Lees said: "Our carbon roadmap sets out how we are responding to the challenge of climate change.
"It combines ambitious targets with clear actions and a timeline against which we will chart our progress.
"It not only covers direct emissions from our site but also tackles the impact of passenger journeys to the airport and flights themselves.
"Decarbonising aviation will not be easy, but this plan shows we are serious about reducing our emissions so we can all continue to enjoy the benefits of air travel in a low carbon future."
Carbon neutrality requires airports to reduce emissions in their direct control as much as possible and offset those remaining by investing in emissions reductions in other sectors.  Net zero goes further and involves greater reductions in emissions because any offsetting must remove carbon from the atmosphere through natural processes (such as afforestation) or the use of carbon capture and storage technology.
Bristol Airport currently has Level 2 Airport Carbon Accreditation under an independent, institutionally endorsed carbon management programme.
Last year Bristol Airport said it expects to create more than 1,000 jobs over the next decade as part of its further development to enable it to handle 12m passengers a year.
The scheme, which will be decided by North Somerset Council this autumn, would also generate an additional £1.4bn for the regional economy by the mid-2020s, according to the airport.
The planning application is the latest stepping stone in the airport's long-term plan of being capable of handling up to 20m passengers a year by the mid-2040s. However, the plans have attracted thousands of objections, including from Bath & North East Somerset Council.
Annual passenger traffic through the airport hit a record 8.5m last year with further growth to 9m expected this year. Under its current planning permission, the terminal is limited to 10m passengers a year – a figure it is likely to hit in the early 2020s.
While the airport has grown rapidly over recent years – it is the fifth busiest in the UK outside London and is low-cost carrier easyJet's largest regional hub – a lack of capacity in the near-to-mid-term could result in airlines restricting future investment in new routes.
The airport, which currently employs around 4,000 on its 196-hectare site, estimates it also supports just under 24,000 jobs in the wider economy of the South West and South Wales.
More than £160m has been invested by the airport's Canadian owners Ontario Teachers' Pension Plan since 2010 in new facilities and infrastructure to keep pace with growth in passenger numbers.
Earlier this year research carried out for the airport showed that passengers from the South West using London airports instead of flying from Bristol were creating carbon emissions equivalent to more than 15m gallons of petrol.