Black and White Hospitality, the North Somerset-headquartered hotel and hospitality management company, has added an iconic London venue to its fast-growing portfolio.
The firm, co-founded by chef Marco Pierre White, has taken over the day-to-day operation of the 29-bedroom Lansbury Heritage Hotel, close to Canary Wharf, pictured.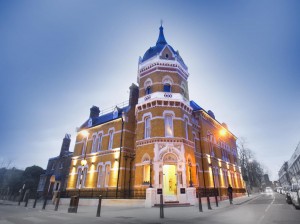 It will also provide strategic management advice for the four-star, boutique-style hotel to optimise profitability.
The beautifully restored historic Grade II listed building, which also boasts a spa and restaurant, becomes Black and White Hospitality's second London hotel.
Black and White Hospitality was launched in 2013 when celebrity chef Marco Pierre White teamed up with Nick Taplin to roll out a number of restaurant brands within hotels.
Since then the group, which is headquartered at its Cadbury House hotel at Congresbury, has expanded rapidly and is approaching its 50th venue in the UK. It seven distinct brands covering health clubs, restaurants, bars, hotels and catering businesses to events and conferencing.
It said its success was based on Marco's desire to make good quality restaurant food that is accessible and affordable to a variety of budgets.
Hotels managing director Shezan Aslam will lead the Black and White team that will now manage all elements of The Lansbury's operation.
Black and White Hospitality chairman and CEO Nick Taplin said: "To add such a major London-based venue to the Black and White portfolio really is a fantastic achievement and we're naturally delighted to have been brought in to help the owners maximise the hotel's profitability.
"This is the second London-based hotel that we now manage with a third to follow in Q1 2019.
"We work alongside some of the world's leading brands including the InterContinental Hotels Group, Hilton Worldwide, Wyndham Worldwide and, of course, Marco Pierre White. The Lansbury is a perfect fit for the expertise we have at Black and White and is not too dissimilar to some of the other properties we currently manage."
The hotel is surrounded by leafy churchyards and Grade I listed buildings with a history that can be traced back to the 17th Century when the East India Company built its first chapel and almshouses on the site in 1628.
With its landmark octagonal domed tower, the hotel is now the centre point of a highly protected conservation area.
Shezan added: "The Lansbury is an iconic building in the infamous canary wharf.  We will now work closely with the hotel's owners to improve its all-round operation, revenue and profitability."