Former professional footballer Silviu Prioteasa has joined the management team at Cadbury House hotel's theclub & spa as operations manager.
theclub & spa, one of the UK's largest independent health clubs, is owned, along with Cadbury House, by Black & White Hospitality, the hotel chain whose main shareholder is chef Marco Pierre White.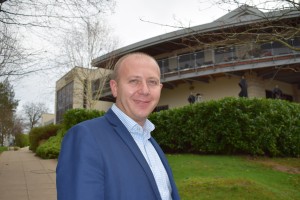 Silviu, pictured, played in his native Romania – where he also gained a degree in PE and Sports Management from the University of Pitesti – as well as in the United Arab Emirates and Bahrain before coming to the UK in 2006 to undertake an English scholarship at Cambridge.
He then moved to Street, where he decided to settle and get involved with refereeing football matches across Somerset.
With his impeccable English, Silviu first worked for the Dexter burger restaurant chain before becoming food and beverage assistant manager at the Ramada Hotel in Bristol during its rebranding to a DoubleTree by Hilton.
He then moved on to the operations manager role at Bristol's Mercure Holland House hotel before joining the health club at the four-star boutique hotel Cadbury House in Congresbury, North Somerset.
Silviu said: "I first visited the club at Cadbury House about two years ago when I came here with my wife for the day. I remember then her commenting on what a fantastic place it is and how good the facilities are. When I said I was going for the ops manager position, she knew instantly where I meant.
"It's that sort of impression I'll be looking to build on, not only with current members but also those considering joining."
Attracted by the autonomy and independence of the club, Silviu was also impressed by the high-end equipment.
With his professional football background, Silviu also knows what it takes to create a world-class facility and believes that is exactly what the club has on offer.
"The standard of equipment and facilities available here at Cadbury House are of the highest quality," he added. "I know how good the equipment is as I have personally used a lot of what's available when I was training during my footballing days.
"theclub is highly respected across the health club sector. It is certainly one of the most pioneering so I'll be looking improve on what's already here.
theclub group director Jason Eaton added: "It's great to have someone like Silviu on board. His international experience allows us to look at things in a different light.
"We'll be using that expertise and knowledge to enhance our members' experience and can't wait to see the results."
Cadbury House operates under the DoubleTree by Hilton brand.