From Bristol 24-7 www.bristol247.com
Organisers of the Bristol Pride festival, which celebrates the city's lesbian, gay, bisexual and transgender community, are seeking business sponsors to support the rising costs of staging the annual event.
Last year 25,000 people attended the festival in Castle Park to watch top acts such as Sophie Ellis-Bextor and Blue.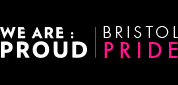 But, on average, visitors donated just 20p on Pride Day itself. The cost of staging the event – now one of the largest festivals in Bristol – runs into tens of thousands of pounds, including equipment hire, security and booking top name performers.
Bristol Pride 2014 will stage a week-long programme of events from July 5 culminating in Pride Day on July 12 with a cultural and music festival in Castle Park. Organisers want to continue to fund it through a mix of donations and sponsorship, rather than charging for tickets.
Festival director Daryn Carter said organisers plan to extend the programme this year but need help secure the long-term future of the event.
"We have big plans for 2014 and want to extend the artistic and cultural programme that sets us apart from Pride events in other cities," he said.
"Our sponsors and festival partners have been great over the last few years and they continue to support us but we're seeing ever increasing costs and want to secure our long-term future so we're looking for more sponsors and other ways to make the festival sustainable.
"We also work all year round to raise awareness of issues that still affect gay and transgender people such as bullying in schools and workplaces, HIV, health and social exclusion.
"Pride is so much more than just a party. It gives the city a focal point to promote equality, combats hate crime and it showcases the huge range of artistic talent that makes Bristol so vibrant."
Go to www.pridebristol.co.uk for more information of email Daryn Carter at daryn@wearefest.com