Bristol's city centre office market has achieved its highest first-quarter take-up figures on record, according to a new report, while also setting its best-ever headline rent.
The remarkable bounce back after two years impacted by the pandemic is revealed in the latest research by the Bristol Office Agents Society, which also shows improved occupier confidence in the out-of-town market, with the highest first quarter take-up since 2014.
The Society said the city centre had been expected to show a strong start to the year as several deals slipped through from 2021, adding that the strong figures set a very positive outlook for the rest of 2022.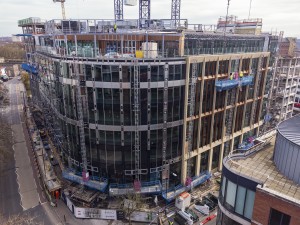 A total of 30 deals were completed between January and March, with an average size of 7,809 sq ft – higher than both the five and 10-year average and with seven of them above 15,000 sq ft.
Headline rents in the city centre hit the £42.50 per sq ft mark, having broken through the £40 per sq ft mark last year with Huboo's deal to take 19,000 sq ft on Corn Street.
The largest of the first-quarter deals in the city centre was the pre-let of 54,767 sq ft at CEG's EQ on Victoria Street to fast-growing fintech firm Paymentsense.
Other major deals included accountancy group Deloitte's pre-let of 22,500 sq ft at Cubex's sustainable building Halo, pictured above, co-working space provider DeskLodge's new 17,265 sq ft business centre at AEW's Beacon Tower on The Centre, the letting of 16,500 sq ft at The Core on St Thomas Street to EPIC, and law firm Clarke Willmott agreeing a pre-let of the top floors at AXA/Bell Hammer's Building C Assembly on Temple Way, pictured right, totalling 15,624 sq ft.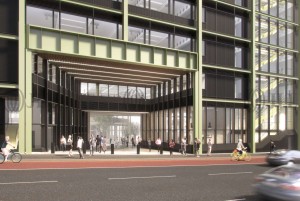 A total of 16 deals were also signed in Q1 in the out-of-town office market to give a take-up of 102,133sq ft, the largest being Lysander Law's move to 19,333 sq ft of first floor space at 740 Aztec West.
This take-up was much improved on the last two years quarterly break downs, said the Society, and was almost half of the take up for the whole of 2021.
The out-of-town market was hit hard by the Covid pandemic but this improved occupier confidence gives promise for stronger demand moving forward.
Cushman & Wakefield partner of office leasing Steve Lane said: "A fantastic record-breaking start to the year. As restrictions are lifted occupancy levels continue to improve.
We have seen businesses being drawn to high quality buildings with strong ESG credentials – reflected in the fact that almost half of the city centre activity was in Grade A schemes.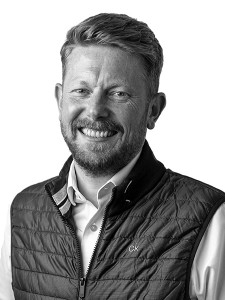 "These figures put pressure on the vacancy rate and as demand continues to improve there will be a sustained emphasis for the market to deliver the high-quality space that occupiers require."
JLL director in charge of office agency Ian Wills, pictured, added: "The market has really bounced back – this isn't the same everywhere so Bristol is clearly a great place to work.
"We have noticed a real 'flight to quality' with occupiers focusing on the very best space. Buildings with low energy use, sustainable management and the best facilities are proving very attractive."
He said for the second consecutive quarter the Bristol city centre office market had recorded above average performance.
"Q1 saw take up 63% higher than the quarterly average, and that follows a 73% increase in Q4 2021, demonstrating significant pent-up demand built up over the last couple of years of restrictions," he added,
"Almost half of the floor space taken has been due to businesses, particularly in the technology, media and telecoms (TMT) industries, making office moves in order to grow – a very positive sign."