A unique partnership between First West of England and Bristol not-for-profit refugee and community training provider ACH is offering people the chance to have a career behind the wheel of one of the city's buses.
The community training programme set up by the partnership includes a two-week course for nine people spanning customer service coaching, employment skills and interview practice.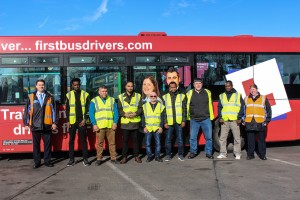 This is followed by essential experience in the driving seat at bus operator First's Lawrence Hill depot.
Of the nine, seven candidates will go on to complete their official six-week training with First to qualify as bus drivers.
The course, funded by First West of England, is the second it has staged with ACH, after two candidates successfully complete their training in a pilot and gained jobs driving buses in the city.
One of the newly qualified drivers Andy Murray said: "The guys from ACH and First have been amazing. The method of a small group helping each other with the preparation and application process was a great experience and helped me, not only overcome my anxious moments with new people, but to also help others.
"I found that there are lots of transferrable skills that I didn't realise would work with a driver role. I cannot recommend the training scheme enough and it's exciting to now have clear career path goals within First Bus."
ACH career advice & employment manager Julia Palmer added: "After seeing two of our candidates start new jobs as First Bus drivers and a further seven begin their official training, we're hopeful that our extended programme of courses will help more skilled individuals get the start they need to build a future working for First West of England.
"Partnerships with employers like this are fundamental in creating a stronger link between business and the wider community to help those from more disadvantaged backgrounds access opportunities and experience in a workplace. First West of England staff have helped build a fantastic course programme that gives hope to future candidates who are excited by the prospect of becoming bus drivers in Bristol."
First West of England managing director James Freeman said: "By working in partnership with ACH, we can provide more disadvantaged members of the community with a life-changing opportunity to start new careers and build more stable futures in the city.
"Our pilot scheme gave participants first-hand experience of essential skills needed in a workplace and we're pleased to now welcome two of these candidates to the team as First bus drivers.
"After a promising success rate, our extended programme of courses with ACH will help more of those in harder to reach communities access the excellent career prospects that our driver training has to offer."
First West of England employs just under 1,500 drivers and around 300 other staff operating a fleet of 611 buses around a region stretching from Bath through Bristol to Weston-super-Mare. In the year to last November it carried 67m passengers on 103 routes covering a total of 25m miles.
ACH (formerly Ashley Community Housing) was established in 2008 as a social enterprise specialising in integrating refugees through accommodation, support and community-based training. Its Himilo training subsidiary offers short vocational training courses in Bristol and the West Midlands to upskill both refugee clients and wider members of the community.