Bristol law firm Burges Salmon has advised the troubled Co-operative Group on the £249m sale of its farms to health charity the Wellcome Trust, which was announced this week.
The high-profile transaction involved a strong team from Burges Salmon led by corporate partner Nick Graves and real estate partner Alastair Morrison and made up of lawyers specialising in real estate, corporate deals, HR, tax and banking. The Co-operative Group is a long-standing client of Burges Salmon, one of Bristol's Big Two law firms with Osborne Clarke.
The sale includes 15,997 hectares (39,533 acres) of freehold and third party owned land, 15 farms, including three pack houses, more than 100 residential properties and 27 commercial properties. The farms grow a range of crops for the Co-op's stores and for sale to other retailers and wholesalers. The pack houses process cereals, fruit, vegetables and honey.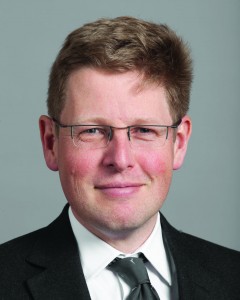 The sale reflects the Co-ops' decision to focus on its core retail and consumer services divisions, including food, funerals, general insurance and legal services. Net proceeds of the Farms sale will be used to further reduce The Co-operative's debt and invest in its core businesses.
All 240 farm managers and employees will transfer to the Wellcome Trust, the world's second highest-spending charitable foundation which backs research into improvements in human and animal health.
Pictured: Nick Graves
The Trust's £1.8bn property portfolio already included significant agricultural holdings in Cambridgeshire, Hertfordshire and Cheshire as well as a major estate in South Kensington. It also recently acquired full ownership of student accommodation company iQ from its joint venture partner Quintain for £106.4m.
The transaction involved the sale of the largest lowland farming enterprise in the UK. According to the Savills, the value of UK prime arable land over the past 10 years has soared by 273% – including 12.3% last year – to just over £8,500 an acre. As a result, the sale attracted widespread interest.
The Burges Salmon included senior corporate associate Ed Barratt, Matthew Brace (corporate associate), Pete Roberts (real estate associate), Zoe Atkinson (real estate associate), Jenny Tran (corporate solicitor), Chris Palmer (corporate trainee) and Joshua Gilbert (real estate trainee).
Pictured: Alastair Morrison
Partner Philip Davey and solicitor Chris Lewis advised on separation matters. Sarah Embleton and Katie Wooller advised on HR matters. Other key members of the Burges Salmon team included Nigel Popplewell (partner corporate tax), Nicola Manclark (senior associate corporate tax), Lizzie James (solicitor corporate tax), John Dunn (partner real estate), Emily Scaife (solicitor banking), Michael Hayles (partner pensions) and James Green (senior associate employment).
Nick Graves said: "The team really enjoyed working with the merger and acquisition team at the Co-operative Group and helping them bring this important transaction to a successful close."
Burges Salmon has advised the Co-operative Group across a range of areas including litigation, competition and real estate for a number of years and on agricultural and farming matters for more than a decade.