Three new starters have joined the Bristol office of independent commercial building consultancy Hollis.
Ed Utteridge is now a senior chartered building surveyor at the firm while Daniel Griffiths is working as an associate building surveyor and Tim Young as a senior engineer supporting its M&E team.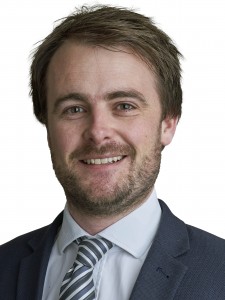 Ed, pictured, completed his degree in Building Construction Technology at the University of Plymouth and is an Incorporated Member of the Association of Project Safety (IMaPS). He has joined Hollis from Bruton Knowles.
Daniel has 20 years' surveying experience working across the public and private sectors. He arrived from Lambert Smith Hampton, where he worked for nearly 10 years as an associate director.
Tim Young also has 20 years' industry experience, having worked with a range of clients across the South West, with a particular focus on mechanical building services design, CIBSE TM52, 54 & 59 modelling, and reporting and drawing office management.
Hollis Bristol partner James Key said: "I could not be more pleased to welcome our new starters to the team in Bristol. The industry knowledge and experience they have accumulated will prove an asset to our team.
"I look forward to seeing their careers flourish at Hollis."
Hollis's Bristol office is one of 22 offices across the UK and Europe. The firm specialises in service areas such as dilapidations, building surveys, environmental services, project management and mechanical and electrical engineering.