A £2.1m refurbishment of Bristol's tallest office building is going ahead to get it ready for the city's commuting revolution.
A total of 374 new bike spaces are being created at Castlemead, pictured, opposite Castle Park in the city centre, together with cycle hire facilities, 18 new showers, storage lockers, a large dedicated drying room and new secure access with lift.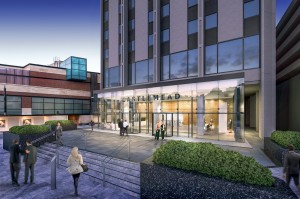 There will also be 12 electric car charging points for staff and visitors in the neighbouring multi-storey car park.
The work on the 18-storey office block, which also includes a striking new reception, comes ahead of the introduction in Bristol of the UK's first city-centre diesel car ban.
Due to come into force next year, the Clean Air Zone plans include restrictions on the use of private diesel cars in parts of the city centre between 7am and 3pm. Drivers of diesel cars straying into the area will incur fines. Castlemead is just inside the inner zone on Lower Castle Street.
The coronavirus pandemic is also expected to spark changes in commuting as more people are encouraged to avoid public transport by walking or cycling to work.
The refurbishment project is being managed by international property agency Knight Frank, which was selected to manage the building 18 months ago by owner London-based Floreat Real Estate, which had bought it a few months previously.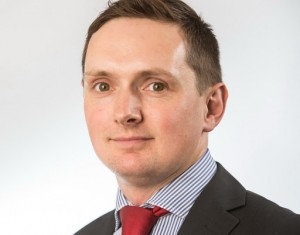 Castlemead, which has a total of 133,600 sq ft office space, is home to Amazon, Blue Fin insurance, Royal Sun Alliance, Regus and PR and communications agency JBP.
Knight Frank partner Christian Crawfurd, pictured, who leads its Bristol-based building consultancy team, said: "The works to the reception and basement are extensive and will transform the sense of arrival and provide market-leading occupier facilities in this iconic Bristol building."
Knight Frank, along with the Bristol offices of property consultancies JLL and Hartnell Taylor Cook (HTC), are joint letting agents for Castlemead.
Knight Frank Bristol partner Andy Smith said: "The owners have anticipated the city's changing transport and commuting model, and have also listened to the building's occupiers, who have asked for more 'green' facilities to be available.
"Once the refurbishment is completed Castlemead will be the first building in Bristol to reach the standards of the prestigious CyclingScore platinum scheme."
CyclingScore Certification rates buildings according to an official set of standards that determine a building's cycling friendliness.  The platinum level is the ultimate award. 
HTC partner Chris Grazier said the inclusion of 12 new car charging points was the most significant investment in green infrastructure for an up-and-standing building Bristol city centre.
JLL director – office agency Hannah Waterhouse added: "The newly designed reception will provide an attractive and welcoming arrival at the building with a new feature wall and touchdown space for visitors and staff."
At 80m tall, Castlemead remains the city centre's tallest office block despite being nearly 40 years old.
Its reception area was last updated by previous owner Oval Real Estate around three years ago.