Bristol's Engine Shed innovation hub is extending its support for the city's entrepreneurial ecosystem by introducing an investor-in-residence service open to all growth businesses in the area.
Delivered in partnership with Deepbridge Capital and Accelerated Digital Ventures (ADV), the service goes live on with bookings available during normal office hours and managed online via the Engine Shed website.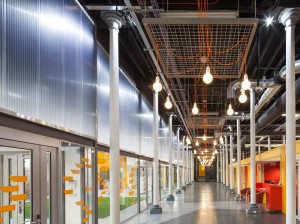 It will offer non-obligatory consultations with experienced investors from Deepbridge and ADV. Companies will get feedback on their pitch and advice on where they can find the right type of investment, as well as insight into what partner investors are looking for.
Engine Shed sees the service as vital to its role of supporting and strengthening Bristol's scale-up capacity as finance and getting early, safe feedback are important elements.
The building already has a number experts 'in residence' including an accountant, lawyer, banker and journalist, to support and advise member business – although the investor-in-residence service is available to all firms – not just those based at Engine Shed.
Deepbridge said by providing feedback and guidance to innovative companies, it hopes to provide practical advice as well as potentially finding tech and life sciences innovation that meet the investment criteria to join its portfolio of funded companies.
Engine Shed director Nick Sturge said: "Talking with those who use our facility, the need for balanced, straight guidance about investment is critical to businesses whether they are at start-up or scaling for growth stage. 
"There is a wide range of investment opportunities in the marketplace and often businesses aren't sure what they need, when and who to choose. Deepbridge and ADV are able to provide such expert advice and we know that this service will prove to be popular."
Deepbridge business development manager – South West- Simon Tutton said: "At Deepbridge, our team of experienced business builders specialise in supporting and funding technology and life sciences innovations across the UK, utilising government initiatives such as the Enterprise Investment Scheme and Seed Enterprise Investment Scheme. 
"The South West, and Bristol in particular, is not only a hub for innovation but is also home to a rapidly growing community of financial advisers who appreciate the Deepbridge approach to providing innovative tax-efficient investment opportunities."  
ADV funds all stages of the digital technology business lifecycle, from entry to exit.
The platform is being funded by ADV's three institutional investment partners — the British Business Bank, Legal & General (L&G) and Woodford Investment Management — and plans to deploy an initial £150m in investment to help British businesses to start up, scale up and succeed, supercharging growth across all UK regions.