Bristol's media landscape has undergone its biggest changes in decades this week with the launch of a major new magazine, website and app and a new TV channel dedicated to the city.
B24/7 has emerged from the successful, independent websites Bristol24/7, Bristol Culture and Bristol Listings. It includes a free 112-page news and feature-led monthly magazine, which reached outlets across the city today, along with a website and app.
Made-in-Bristol TV, which went live on Wednesday evening, will give the city its first dedicated 24-hour television channel with much of the content produced in the city.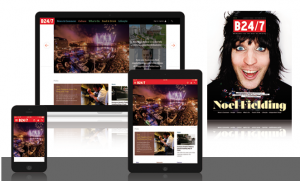 The community interest company behind B24/7 includes Dougal Templeton, entrepreneur and founder of Bristol's trailblazing what's-on magazine Venue.
B24/7 promises to provide the city with the kind of comprehensive arts and entertainment listings and reviews not seen in the city since the demise of Venue, which Mr Templeton sold in 2000 to Evening Post and Western Daily Press publisher Bristol United Press – then part of the Daily Mail group.
The print version of Venue was killed off in 2011 with the blame being put on falling circulation and advertising revenues and the Venue website was closed 11 months ago.
The team behind B24/7 said they want it to be the "first port of call to find out what's happening across the city with news, features, what's on listings and everything else in between".
Made Television, the company behind Made-in-Bristol TV, describes itself as "leading the local revolution from the front".
It said: "We are the biggest name in the new local television market, our stations covering a combined audience of over 10m from the sunny Severn Estuary and South Wales all the way up to the northern heartlands of Yorkshire and the North East."
Made Television, which has five licences to broadcast local television to millions of people across the UK, says can make economies of scale that stand-alone stations cannot match.

"It means that our local team in Bristol or in Teesside will be supported by a sales staff, lawyers, a web team, and programme producers around the country," the company said. "It means our producers in Leeds could be making programmes that we can broadcast to our audiences in Cardiff. And it means that we can all learn from each other, learn from one another's mistakes and build on our successes."
Made in Bristol is available on Freeview channel 8 and Virgin Media 159. It will be available on Sky 117 from November 24.