Bristol cultural icon DJ Derek is to make his last-ever outdoor performance later this month at the city's Harbour Festival.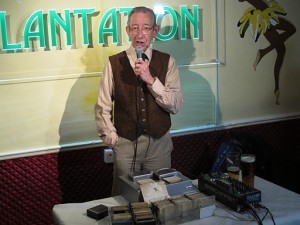 A mainstay of the Bristol music scene for decades, the legendary DJ, a former accountant, will headline the music stage in Queen Square on Friday July 26.
Derek is a regular in clubs, bars and festivals around the UK but particularly in his home city, where has played for decades at venues like the Star & Garter pub in Montpelier.
His sets are notable for their 1960s and 1970s reggae and soul music but also for his distinctive Jamaican patois – despite the fact he has never visited the island.
Derek, real name Derek Morris, has decided at the age of 72 to stop appearing at outdoor events.
He was presented with the Lord Mayor of Bristol's Medal for outstanding work last year during a set he was performing at Plantation Restaurant on Cheltenham Road.
He has performed with fellow Bristol music legends Massive Attack and has also featured in a Dizzee Rascal music video.
DJ Derek has been opening the Harbour Festival for years and as Bristol's biggest cultural event, he felt it was the place to play for the last time.
New to the festival this year, Thekla will have its first outside performance area, the Thekla Harbour Stage, located in The Grove car park. It will showcase the finest folk and indie music.
Musically, the Bristol Harbour Festival has an eclectic mix of live performances, from upbeat jazz tunes in Queen Square to the laid back acoustic sounds of Cascade Steps along with various festival venues.
Queen Square highlights across the weekend include West 80s live instrumental dance music band Pigbag, who reformed last year.
Festival venues include Grain Barge, Louisiana and The Pump House. A festival programme has been produced containing information about the musical acts. All the proceeds from the £2 cover price go back into the festival to ensure it is free for all its visitors.