A group of University of Bristol engineers have strengthened the city's growing reputation as a 5G hotbed by demonstrating their high-level research at a major cyber security conference.
Their research into radio wave propagation modelling, smart cities, high-capacity radio waveforms and Gigabit transport connectivity was highlighted at CYBERUK, the National Cyber Security Centre's (NCSC) flagship three-day which took place in the Manchester this week.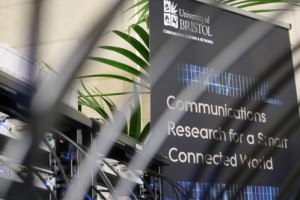 Members of the university's communications systems and networks (CSN) research took part in the Future Zone, which highlights what's possible using a range of new, and potentially disruptive, wireless technologies.
They demonstrated how, in the near future, autonomous vehicles and high-speed trains will be connected at Gigabit rates across our cities and transport networks. This work opens up amazing new opportunities, but also introduces new challenges for the cyber community.
5G services will be introduced from 2020 and are set to revolutionise the way we work and live.
Prof Andrew Nix, dean of the Faculty of Engineering and CSN Group head, said: "Bristol is a leader in 5G research and with our government and industrial partners we're taking the technology out of the lab and into our cities and surrounding regions. It's really important we share these 5G advancements with the wider cyber community."
This flagship event brought together more than 2,000 cyber security leaders and professionals from across the UK's information security community. The event aimed to make the UK the safest place to live and work online.
The university's CSN Group was formed in 1985 to address the research demands of the fixed and wireless communications sectors. It combines fundamental academic research with a strong level of industrial application. It recently joined forces with the university's High Performance Networks (HPN) Group and the Photonics Research Group to form the Smart Internet Lab.
Last month Bristol was the forefront of next generation wireless technology when, for the first time anywhere in the world, 5G was demonstrated in a public urban setting.
Millennium Square became a unique public test-bed with spectacular 3D-like projections, a virtual reality dance piece, a guided tour on which people could take a 'walk through time', and a programme of talks and demonstrations open for everyone.
The event brought together key players in Bristol's tech, creative and science sectors including the Smart Internet Lab, the Watershed media centre and science venue We The Curious.