Global brands and household names will be rubbing shoulders with small-but-fast-growing Bristol firms next week at the city's Festival of Sustainable Business.
The event, organised by Future Leap – the innovative Bristol organisation providing hubs that support business sustainability – will be the biggest since it was launched in 2019.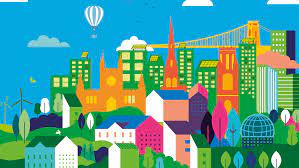 Taking place as the climate and energy crisis grows ever more serious – and with national governments, local councils and businesses all now realising they must aim for net zero – it has attracted big names such as car giant Tesla, vehicle dealer Synter Mercedes Benz and Voi scooters.
Other exhibitors include Solarsense, City to Sea, Ecomove, SUEZ Recycling and Recovery and the West of England Combined Authority.
It also comes as Bristol City Council embarks on its City Leap programme, which will lead to a city-wide energy transformation as part of its net zero ambitions.
The council and Mayor Marvin Rees declared a climate emergency in November 2018 – the first UK city to do so.
Close to 1,000 attendees are expected at the event on Thursday, 23 June, at Paintworks on Bath Road, with more than 50 exhibitors showcasing their innovative and climate-friendly products and services – from e-scooters to the latest in solar panels.
There will also be 26 presentations during the day from the likes of SustainIT, Avon Wildlife Trust, Doughnut Economic Action Lab (DEAL), City Leap and Triodos Bank UK.
The event, which is free to attend, will also feature special transport and sustainable food zones, Ted Talks-style presentations on industry-specific sustainable topics from fashion to construction, and a special networking area run by the City Leap Partnership.
Future Leap head of partnerships and sustainability Katherine Piper said: "The latest IPCC (Intergovernmental Panel on Climate Change) report urges rapid, deep and immediate cuts in CO2 emissions, peaking in just three years.
"It really is now or never. The festival ensures the right organisations are in the one space, helping businesses, communities and householders adapt to this ever more urgent prerogative.
"Climate action and addressing the impact of the energy crisis are high up on the board agenda currently as C-suite executives increasingly realise the win-win opportunity in terms of a positive impact to their company's reputation and bottom line from deploying the latest sustainability solutions."
For more information visit https://www.festivalofsustainablebusiness.co.uk/
For free registration go to: https://www.eventbrite.co.uk/e/exhibition-festival-of-sustainable-business-registration-89962354825