Bristol could become the "most disproportionately innovative city in the world", one of the BBC's top bosses told business leaders this week.
Peter Salmon, director of BBC North and the man responsible for the corporation's activities in Bristol, challenged the city to grow its own creative base rather than copy others.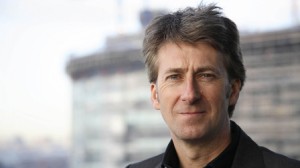 "You have long been open to the world, though in the past it was through sea lanes and great voyages. These days you can develop new trade routes with the click of a mouse and through the imagination of your brightest production and craft people," he said in a major speech at an event organised by business support organisation Business West.
To do this, Bristol's creative sector had to connect with the city's life – its people, its businesses, its technology, its public bodies and its academic network, he told the meeting at Paintworks.
"That would be true to the eclectic spirit of Bristol. This can only be done through collaboration and partnerships. Through skills and entrepreneurship. Through the adventure, planning and playfulness you have been world famous for. Through what that label 'Made in Bristol' stands for.
The BBC marks its 80th anniversary at its Whiteladies Road HQ in Bristol this year. The corporation is studying plans to move to a new, purpose-built media centre, possibly in Bristol's Temple Quarter Enterprise Zone.
But Mr Salmon, pictured, said there should be no rush to relocate into a new base – despite the existing building being unsuitable in many ways for a 21st century media organisation.
"Many of you also know that we've been discussing our future property plans for Bristol for quite a while now. Whiteladies Road is a marvellous home, but there are reasons that it is sometimes challenging in a world where our own production teams want to cluster around fast moving, digital ideas in bigger, broader groups than are allowed by beautiful townhouses. Rest assured this is on our 'to do list' but I would urge caution.
"First, because at a time of considerable pressure on the BBC's budget – look at our radical plans for BBC Three – we must be clear about the financial and creative gains a move from Whiteladies Road would bring. And, as partners, we must also look at the impact that it would have in the city – a move to a new cluster at the expense of an established one could come as a hit – not a boost – to the city's creative economy.
"Perhaps for that reason we are attracted to the concept your Local Enterprise Partnership is developing of the 'unsquare mile', by promoting the growth of the creative sector in a space that runs from here at the edge of the Enterprise Zone, along the river and towards both Bower Ashton and Whiteladies Road. A very Bristolian solution.
"My plea is that, irrespective of what the BBC does, you should preserve and enhance Bristol's very organic way of doing business and growing. The city is built to human scale. It is a compact, intimate, highly networked place where a hundred small businesses very much with their own personalities link up just a short bike ride from each other. That's the unsquare mile at its best. How many cities do you know that still allow you to do a deal in a cafe a short stroll away from the office. The world's best talent find that alluring – eccentric, fun and different – Bristol's USP."
Mr Salmon worked for the BBC in Bristol in the early 1990s, first in the Natural History Unit and then as head of the factual department, which was only half today's size.
He said Bristol was innovative then and the BBC was a catalyst for much that creativity. "[It was] fusing together poetry and documentary in Words On Film; discovering fledgling filmmakers in Ten By Ten; commissioning brilliant Bristol independent companies – like Steve Humphries' Testimony Films; and working with Aardman Animations on their first Wallace and Gromit film for the BBC, The Wrong Trousers."
In its next financial year the BBC expects to produce nearly 500 hours of network television output, worth over £70m in programme budgets, in Bristol.
"I doubt any other European city can claim such a payback – when considering their size and scale. This city is disproportionately creative – it's in the water, beer, cider, whatever. It makes the BBC licence fee at 40p a day look like good value," he said.
"Naturally, this spend is essential to our staff but also great news for the city's fantastic army of specialists – camera crews, editors, producers, musicians, researchers and many others who help make not only ours but also the many programmes made by the city's independent producers, many of whom trained with us or developed their careers with the BBC on Whiteladies Road."
What made Bristol different, he said, was that because it had been happening for so long it has become organic – "not engineered of necessity like the MediaCity I run in Salford".
"It's something that comes from the soil of the West of England with a direct positive impact on the many Bristol-based businesses which are essential for a successful creative economy: post production, graphics, equipment hire and digital specialists."
One of BBC Bristol's best-kept secrets was its "extraordinary" network radio output, he said.
It is responsible for 350 hours of original content on BBC radio, especially Radio 4, with programmes such as Farming Today, Costing The Earth, Any Questions and Poetry Please.
"And, on top of that, the radio team here make hours of ad-hoc documentaries and drama every year," he said.
"It's always reassuring on the radio when you actually hear Bristol being given the credit at the end of the programmes. 'Made in Bristol.' It feels like that kite mark is worth extending much further. It's a badge of real quality."