Bristol has been named as the UK's second-best city outside London for business in league table that rates major urban centres on their appeal as places to run and grow knowledge-based companies.
The ranking of 21 towns and cities, compiled for Management Today magazine, was topped by Manchester with Bristol not far behind. Leeds came third.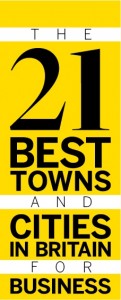 To arrive at the shortlist, the UK's 63 largest towns and cities were assessed on metrics including productivity, the depth of the talent pool, the strength of innovation, the scale of the private sector ecosystem and the rate of growth.
These results were carefully weighted to produce the 21-strong shortlist, which was then ranked by a panel of expert judges with reference to the data and submissions from the cities themselves.
Management Today said the judges were impressed with Bristol's "dynamic culture of talent and innovation that has established its reputation as a "sustainable, forward-thinking city with a highly skilled workforce, which drives economic growth and enhances productivity".
With 54% of its workforce educated to at least degree level, Bristol's submission highlighted a diverse business sector rich in world-leading expertise, particularly in environmental technologies, hi-tech, aerospace and advanced engineering, media, and financial and professional services.
The judges also noted that Bristol is recognised as the second largest digital tech cluster outside London, with a turnover of £8.1bn, and the third largest UK media hub outside London and Manchester, home to important parts of BBC Oscar-winning Aardman Animation, and soon one of Channel 4's new creative hubs.
They also took note of the One City Plan partnership between the city's business and public sector community and driven by a directly Mayor Marvin Rees. It sets out ambitious targets up to 2050, such as City Leap, a series of energy and infrastructure investment opportunities aiming to decarbonise the city.
Also mentioned were the innovative Engine Shed co-working hub and its world-beating SETsquared incubator, which is backed by the University of Bristol.
The judging panel included David Landsman, former executive director of Tata Europe; Anne O'Donnell, CEO of Procorre; Simon Rogerson, CEO and founder of Octopus Group; Tim Lloyd, MD of AML Group; Jim Hubbard, head of regional policy at the CBI; Paul Swinney, director of policy and research at the Centre for Cities; and Adam Gale, editor of Management Today.
Adam Gale said: "London rightly has a world-class reputation, but that doesn't mean the rest of the country should live in its shadow. There are great business hubs across the UK that deserve recognition."
The UK's 63 primary urban areas (minus London) were defined by the Centre for Urban and Regional Development Studies at the University of Newcastle. Metrics used for shortlisting were: patent applications per 100,000 people, GVA per worker, the share of working age population with an NVQ4 qualification or higher, business stock per 100,000 people and business stock growth rate, the number of private sector jobs and private sector jobs growth rate, and the number of employees in high growth businesses.
The Top 21 table in full is:
1. Manchester
2. Bristol
3. Leeds
4. Edinburgh
5. Reading
6. Glasgow
7. Cardiff
8. Milton Keynes
9. Birmingham
10. Liverpool
11. Cambridge
12. Brighton
13. Slough
14. Nottingham
15. Southampton
16. Newcastle
17. Bournemouth
18. Warrington
19. Aberdeen
20. Leicester
21. Northampton
Belfast, Sheffield, Oxford and Peterborough all failed to make the shortlist.