Bristol-based property consultancy Alder King is to donate a Christmas tree inspired by Bristol's year as European Green Capital to St Mary Redcliffe Church's second annual Treefest event.
Alder King's tree will be festooned with natural decorations including flowers, fruits, twigs and berries and will take its place among nearly 100 others in the church decorated by businesses, schools, community groups and charitable organisations from across the city.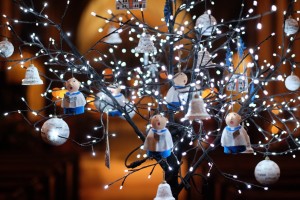 Last year's inaugural Treefest raised £4,500 for three charities from donations by visitors and other organisations.
This year's proceeds will go to three local charities – Bristol Underprivileged Children's Society, ARA and St Mary Redcliffe's outreach programme.
Also donating a tree inspired by Bristol's year as Green Capital will be United Communities Housing Association, which will be working with its residents and LitterARTI to fashion Christmas decorations from materials collected during litter-picks.
Alder King marketing manager Sarah King said: "We're delighted to add to the variety of trees on display at Treefest with one of our own.  It will make a fitting end to our involvement in Bristol's year as European Green Capital."
The firm, which employs more than 100 staff at its Clifton offices, has been a strong supporter of Bristol 2015 and during this summer's Business Green Week staged five days of innovative events to engage and education its staff.
Last month it bought two electric bikes to cut down on car travel by staff around Bristol.
Treefest organiser Marcus Ashman said: "Treefest is a spectacular visual display of Christmas trees set in the Gothic splendour of St Mary Redcliffe Church in the run-up to Christmas.  It is a wonderful demonstration of the city's diversity and creativity.
"We had a wonderful variety of Christmas trees last year – from quirky to traditional, thought-provoking to artistic. We even had trees made entirely out of books and plastic water bottles. I'm sure this year's contributors will be just as imaginative, giving visitors to the event plenty to enjoy and think about."
Also donating and decorating trees this year are Go Green – the sustainable business programme funded by Bristol 2015 and run in partnership between Business West and Low Carbon South West – children's hospital Radio Lollipop, Business West, City of Bristol College, the Environment Agency, St Mary Redcliffe Schools, Children's Scrapstore, Bristol Bound Bookbinding, Pieminister, Cleve House School and the Avon Federation of WIs.
Treefest will be open to the public between 10am and 5pm from Tuesday 8 to Sunday 13December.  Entry is free but donations can be given to the three nominated charities.
Bristol Underprivileged Children's Charity
Established in 1978, the BUPCC has helped thousands of disadvantaged children under 16 living in conditions of need, hardship or distress within a 25-mile radius of Bristol city centre. The BUPCC supports these youngsters through the provision of grants, equipment, services or facilities. This might include money to round off someone else's fundraising, helping schools or sending children on holiday, mainly through BUPCC's close ties with places such as Barton Camp and Children's Hospice South West. The charity organises a wide range of fundraising events – its Christmas Lunch on 14th December being its most successful fundraiser of the year. Every penny raised goes directly to support the charity.
More information: www.bupcc.org.uk
ARA: Addiction Recovery Agency
ARA is a Bristol-based charity providing specialist services for people with drug and/or alcohol issues. Over the past 28 years, it has helped over 40,000 people with alcohol, drug, gambling or mental health problems and has saved an estimated £50 million in costs to the community. In July 2012, ARA and St Mary Redcliffe Church set up the Arc Café as a community project to provide those recovering from addiction with a wide range of education, training and employment opportunities. This supportive working environment provides the structure for individuals to learn new skills and gain the confidence to move towards paid employment. The Arc Café serves delicious home-cooked food, using many locally sourced products, in the unique historic setting of St Mary Redcliffe Church's Undercroft.
More information: www.addictionrecovery.org.uk
St Mary Redcliffe Outreach Programme
St Mary Redcliffe Church is committed to working in and with the local community. Its long-established and well-supported outreach programme includes Redcliffe Care, which has a partnership with local charity LinkAge and has a focus on older people's needs, and Faithspace, a community centre designed to engage with local people, young and old.
More information: www.stmaryredcliffe.co.uk/our-community/linkage
Pictured: The St Mary Redcliffe Church Choir tree at last year's Treefest