Shops, cafes, hotels, independent financial advisers and universities were among the winners in this year's South West Fairtrade Business awards, which champion firms that put ethical responsibilities at the heart of their business.
The awards, staged yesterday at Bristol's City Hall, attracted scores of entrants from across the region.
Category winners from Bristol included Source Cafe @ The Hub, Stewart Investment Planning, jeweller John Titcombe, fruit drink producers Natural Beverages, the University of Bristol and UWE's Student Union Shop.
Winner of the Best in the South West 2014 Award was Koolskools. Judges praised the Hampshire-based Fairtrade uniform provider, hailing it as 'an incredible advocate for Fairtrade since it started, not only as a 100% Fairtrade provider, but also pioneering new products in the sector'.
Welcoming around 150 entrants and guests to the lunchtime ceremony, Mayor of Bristol George Ferguson said he was proud of Bristol and South Gloucestershire's record on responsible trading.
"I believe that the way we trade says a lot about a city so I'm particularly delighted that we have been recognised as one of the world's leading Fairtrade cities."
He said fairness would be a central theme of Bristol's year as European Green Capital in 2015.
"It won't just be about saving energy and doing things in an environmental way. It will be about treating people in a decent and ethical way."
Bristol became a Fairtrade city in 2005 and in 2015 will host the prestigious International Fairtrade Towns Conference.
Margarita Espinoza, a Fairtrade coffee producer from Nicaragua who has been in Bristol speaking at events during Fairtrade Fortnight, outlined how becoming involved in Fairtrade had changed her life and those of her fellow growers, their families and the wider community in their remote village.
The Awards were presented by The Observer and The Guardian's ethical expert Lucy Siegle.
Category winners were:
Best Fairtrade Accommodation 2014 – Lee Abbey, Devon
Best Fairtrade Food Outlet 2014 – Source Cafe @ The Hub
Best Fairtrade Office 2014, sponsored by Burges Salmon – Stewart Investment Planning
Best Fairtrade Retailer (Multiple Products) 2014 – UWE Student Union Shop
Best Fairtrade Retailer (Single Product) 2014 – John Titcombe and Natural Beverages (joint winners)
Best Fairtrade University 2014 – University of Bristol
The awards were staged by Business West, South West Fairtrade, Destination Bristol and Bristol City Council and sponsored by The Cooperative group and Bristol law firm Burges Salmon. The lunch was sponsored by Shared Interest Foundation.
Mike Trodd of Koolskools said: "We're humbled and delighted to have won the Best Fairtrade Business in the South West Award. We had a fantastic and inspiring day at the awards ceremony and will do all we can to support Fairtrade in the future."
A full list of all winners including bronze, silver and gold appears after the photo below.
Pictured: Lucy Siegle presents the top award to Koolskools joint partner Mike Trodd
Photo by Jon Craig http://www.joncraig.co.uk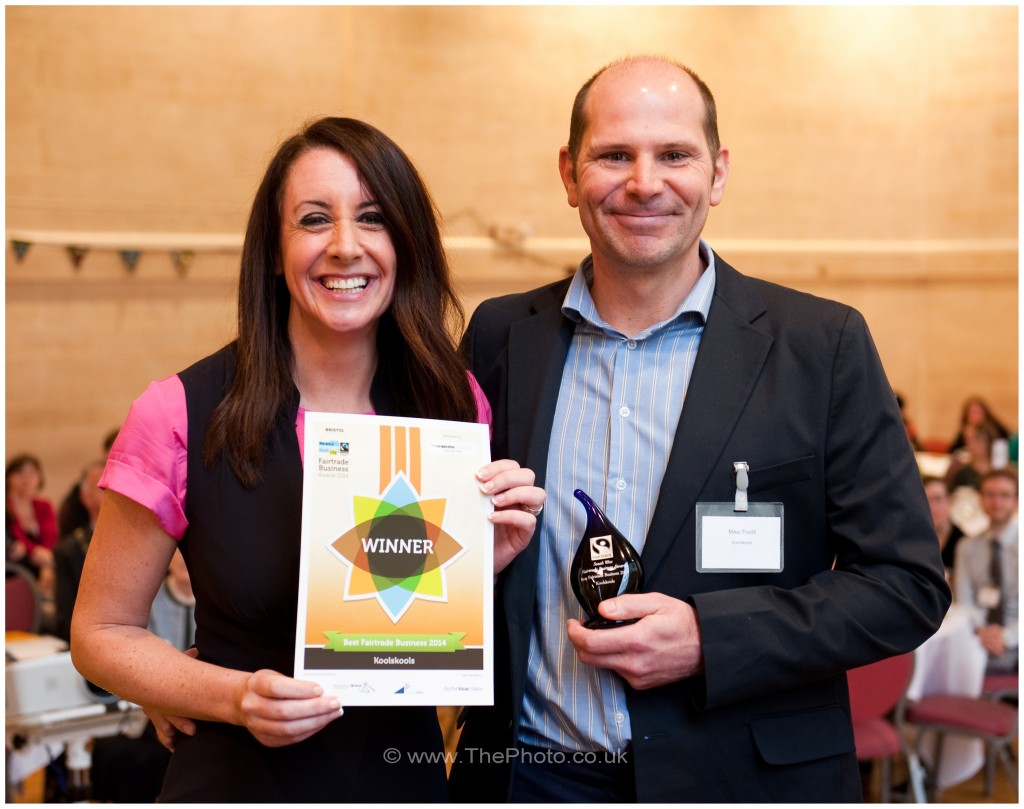 | | | | |
| --- | --- | --- | --- |
| Company Name | Category | Award | |
| Commonwealth Cottage | Accommodation | Silver | |
| Sandays Bed and Breakfast | Accommodation | Silver | |
| Greenhouse B&B | Accommodation | Gold | |
| Rosemundy Cottage | Accommodation | Gold | |
| Lee Abbey Fellowship | Accommodation | Gold | Category winner |
| | | | |
| --- | --- | --- | --- |
| The Swan | Food Outlet | Bronze | |
| The Watershed | Food Outlet | Bronze | |
| Café Create | Food Outlet | Silver | |
| Coffee Station | Food Outlet | Silver | |
| Elior | Food Outlet | Silver | |
| Just Ground | Food Outlet | Silver | |
| Poole Grammar School | Food Outlet | Silver | |
| The Tiny Marmalade | Food Outlet | Silver | |
| Vaughan's Kitchen | Food Outlet | Silver | |
| Full of Beans Coffee cart | Food Outlet | Gold | |
| One World Cafe | Food Outlet | Gold | |
| Source café at the Hub | Food Outlet | Gold | Category winner |
| | | | |
| --- | --- | --- | --- |
| Grant Thornton UK LLP | Office | Silver | |
| Business West | Office | Gold | |
| Create Centre | Office | Gold | |
| Lyons Davidson | Office | Gold | |
| Minuteman Press | Office | Gold | |
| Stewart Investment Planning | Office | Gold | Category winner |
| | | | |
| --- | --- | --- | --- |
| Christine's Sustainable Supermarket | Retailer – multiple products | Silver | |
| Greenlife | Retailer – multiple products | Silver | |
| Here and Far | Retailer – multiple products | Silver | |
| Just Crafts | Retailer – multiple products | Silver | |
| Neals Yard Remedies | Retailer – multiple products | Silver | |
| Pill Post Office | Retailer – multiple products | Silver | |
| Pukka Herbs | Retailer – multiple products | Silver | |
| Voyage Fairtrade | Retailer – multiple products | Silver | |
| Better Food Company | Retailer – multiple products | Gold | |
| Fair's Fair | Retailer – multiple products | Gold | |
| Harvest | Retailer – multiple products | Gold | |
| Kerala Crafts | Retailer – multiple products | Gold | |
| Lee Abbey Fellowship | Retailer – multiple products | Gold | |
| Tumi | Retailer – multiple products | Gold | |
| Wild Oats Wholefoods | Retailer – multiple products | Gold | |
| UWE Students' Union Shop | Retailer – multiple products | Gold | Category winner |
| | | | |
| --- | --- | --- | --- |
| Cake | Retailer – single product | Silver | |
| Christina Oswin Jewellery | Retailer – single product | Silver | |
| Fish out of water | Retailer – single product | Silver | |
| Indigo Valley | Retailer – single product | Silver | |
| Silverthorne Hobbs Ltd | Retailer – single product | Silver | |
| Bristol Tea Company | Retailer – single product | Gold | |
| John Titcombe | Retailer – single product | Gold | Category winner – joint |
| Natural Beverages | Retailer – single product | Gold | Category winner – joint |
| | | | |
| City College Plymouth | University or College | Silver | |
| Falmouth Exeter Plus | University or College | Silver | |
| University of the West of England | University or College | Gold | |
| University of Bristol | University or College | Gold | Category winner |