The Lord Mayor of the City of London has praised Bristol's business community for working in partnership to develop the city's economy.
Lord Mountevans, pictured, said out of the dozen UK cities he had visited this year, Bristol's businesses had shown the greatest commitment to drive their city forward.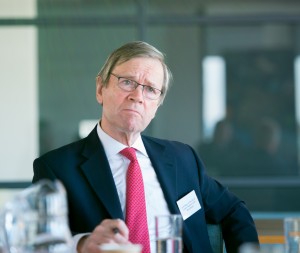 He was speaking after a day of meetings in Bristol with senior business leaders to hear about why the city has the most dynamic, innovative and best-performing economy outside of London and the South East.
Lord Mountevans said cities must work together to minimise any impact of a 'hard Brexit', particularly on the financial sector.
He said: "Growing Bristol's professional and financial sector will be vital in facilitating strong economic growth for the region and across the UK. It is important for us at the City of London to continue to work very closely with the regions to drive future growth and job creation.
"Bristol is the UK's third largest centre for professional services, and hosts more than 50,000 workers in the financial, insurance, and professional services sectors. I am keen to explore how the City of London can help in creating even more top quality jobs like these across the country.
"We are engaging with the government and EU policy makers to ensure that the interests and competitiveness needs of the UK-based financial and professional services industry are heard and recognised."
Hosted by Business West – Bristol Chamber of Commerce & Initiative,The Lord Mayor led a discussion with business leaders and academics working in the financial and professional services industry at the headquarters of ethical bank Triodos, followed by a working lunch with a wide range of key business leaders and Bristol Mayor Marvin Rees to discuss how to advance growth for Bristol, working with London, not in competition.
The business leaders discussed how the economy could continue to thrive and grow both on a UK and global scale after a period of uncertainty following the EU Referendum.
Bristol Chamber & Initiative at Business West chief executive James Durie said: "We were delighted to host this visit of the Lord Mayor of London so he could see and hear why Bristol is leading the way in so many fields, and now firmly established as one of the most attractive places to live, work and run a business.
"With city region devolution and electrification of the Great Western Rail moving to completion, set against continued post-Brexit uncertainty we are keen to explore how Bristol can work closer with London and its Lord Mayor  to open up new markets and opportunities to grow our local and national economy."
Following the lunch meeting the Lord Mayor toured the Floating Harbour by boat, with Bilfinger GVA's Bristol-based regional senior director Jo Davis showing him the key development sites. This was followed by a visit to Ultrahaptics, the fast growing hi-tech business.
Photo by Jon Craig @JonCraig.co.uk