A Yorkshire-based entrepreneur has stepped in to save Bristol's Bloodhound supersonic car project days after it was axed by administrators.
Ian Warhurst, owner of Barnsley car parts firm Melett, has bought the assets and business of the Avonmouth-based project – which had hoped to set a world land vehicle record of 1,000mph – for an undisclosed amount.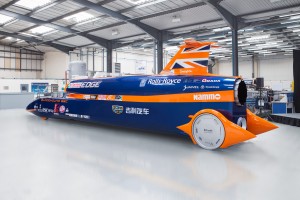 Bloodhound Programme, the company running the project, called in Bristol-based administrators from specialist advisory firm FRP in October when it hit a cash crisis.
The administrators admitted earlier this month that they had failed to find an organisation or individual to rescue the 11-year project and announced it was to be shut down.
But this week joint administrators Andrew Sheridan and Geoff Rowley said after making this announcement they were contacted by a number of interested parties and had agreed a  deal with Mr Warhurst, which will allow the project to continue.
Andrew Sheridan said: "We have been overwhelmed by the passion that clearly exists for Bloodhound and are thrilled that we have been able to secure a buyer who is able to give this inspiring project a future.
"Ian has a strong background in managing highly successful businesses in the automotive engineering sector and he will bring considerable expertise to bear in taking the project forward. He will be outlining his plans for the project in detail early in the New Year."
It is not known at this stage if the project will continue to be run from its base in Avonmouth under its new ownership.
In 2014 Mr Warhurst and his wife Nicola were jointly placed at number 67 in a league table of the UK's 100 top entrepreneurs by Management Today magazine. At the time the couple were said to have a joint wealth of £73m.
Mr Sheridan thanked the Ministry of Defence and aero-engineering giant Rolls-Royce – which has supplied one of its EJ200 engines to power the Bloodhound car – for their support and collaboration throughout this process, "without which it would not have been possible for the project to be in a position to continue".
Project Bloodhound had planned to race it supersonic car at a specially built track in the deserts of South Africa. Since its launch it has enthused thousands of young people on careers in engineering by visiting schools.
The team was seeking £25m in investment to provide guaranteed funding and see the project to completion. Last year the Bloodhound car reached speeds of 200mph during tests at Newquay Airport in Cornwall.
However, despite big-name sponsors and supporters such as Rolex, UWE Bristol, Lockheed Martin, Serco and Rolls-Royce, the project had teetered on the edge of financial collapse for some time.
South West law firm Foot Anstey provided legal services to the joint administrators while Gordon Brothers acted as the chattel asset advisors. Walker Morris provided legal advice to Ian Warhurst.  
Photo by Stefan Marjoram