The organisation that owns Bristol Zoo Gardens has pledged that a large part of the site will remain open to the public and its historic features retained when it is redeveloped as housing.
Bristol Zoological Society, which caused controversary when it announced the zoo's closure in November 2020, plans to sell the iconic 12-acre site near The Downs in Clifton to help fund a new Bristol Zoo at its Wild Place Project near Cribbs Causeway, which will have conservation at its heart.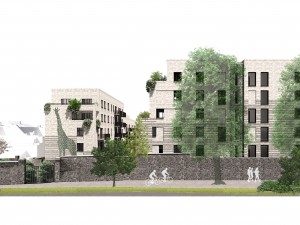 It has now submitted a planning application for the Clifton site which includes around 200 homes, pictured, along with a new cafe and exhibition space in the zoo entrance building.
The society said it intends to make the gardens accessible to the public for free for the first time since they opened to the public in 1836.
It also plans to preserve and protect the Monkey Temple and former Bear Pit, along with other features, for future generations to enjoy.
Much of the gardens would remain unchanged, it added, with improvements to the lake, a new free nature-inspired play area and space for community events in the existing Terrace Theatre building.
While organisations such as Bristol Chamber of Commerce and destination marketing organisation Visit West have backed the decision to develop a new zoo on the outskirts of Bristol, it has stirred up a storm of protest from local groups. 
An alternative plan, backed by former Mayor of Bristol George Ferguson, calls for the site to be as the world's first augmented reality zoo which would use technology to create an immersive experience with visitors experiencing animals in their natural habitat.
The society argues that the new zoo will offer bigger spaces that more closely reflect the animals' natural habitats – with 80% of species linked to its conservation work, more than any other UK zoo.
It said it had led the planning application for the sale zoo gardens site to ensure the legacy of the much-loved gardens is protected and to secure the future of the charity.
The 200 or so homes to be developed on the site will be high quality, it stressed, and located mainly in areas where there are already buildings. They will range in size to encourage different generations to live there, and 20% will be affordable, it said.
Bristol Zoological Society chief executive Dr Justin Morris called the plan "an important milestone and an exciting step forward" for the future of the society.
"We are confident in our plans and proud of the ambition and quality of the design proposals we have submitted," he said.
"Importantly, these plans will secure the site as a vital community asset, so everyone can enjoy its beauty and heritage for many years to come."
Bristol Zoo Gardens' final public open day will be on Saturday, 3 September 2022. Before this, a series of events will take place to celebrate this closing chapter for Bristol Zoo Gardens.