Bristol Wood Recycling Project is celebrating rapid success in a fundraising exercise to buy its premises and secure its long-term future through a bond offer.
The offer, staged on Bristol-based ethical bank Triodos' crowdfunding platform, netted £430,000 in just over a fortnight from its public launch, with just over half of the investors living in or around Bristol.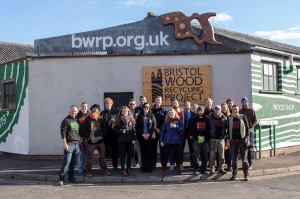 The money will be used to acquire the project's base in St Philips, where it moved just over a year ago from its high-profile Cattle Market Road yard, which had been its home for more than 13 years.
The funding not only secures the site for the long term but will also enable the project to grow the business for future generations.
The St Philips site, which is larger than its Cattle Market Road yard, has brought many benefits for the business. It has two entrance points, enabling separate access for collections and for clients, and boasts a self-contained yard that provides ideal space for storing waste wood it has collected.
Its workshop is also more than twice the size of the previous one and has more office space.
The additional space gives the project the capacity to continue to expand its operations, with a strong six-year business plan for growth. Buying the site will result in significant annual cost savings as well as securing its long-term future.
Co-founder and director Ben Moss said: "We did it! All of us here at Bristol Wood Recycling Project are over the moon – and beyond – that in just over two weeks since publicly launching the bond offer, we have raised the £430,000 necessary to buy our home. 
"This is the most affirming thing that could happen for us- – that our community, from far and wide, are committing their faith in us, investing in our future.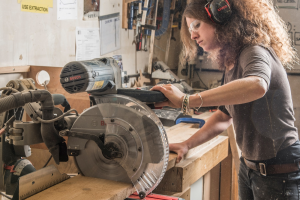 "As we approach our 15th birthday, this is a dream come true. We can secure our home and continue our work for the benefit of the community and the planet, for future generations. Thank you Triodos Bank for your support through this, and thank you to all our financial supporters – great and small – for believing in our future."
Triodos Bank head of corporate finance Dan Hird said he was proud that both Bristol and the bank's crowdfunding community had supported the project to make its dream a reality.
"The impact they have within Bristol is fantastic and we're excited to see this organisation go from strength-to-strength.
"Supporting social enterprises is an important part of our what we do. Anyone who missed out on investing can sign up to our crowdfunding site to be alerted on future investment opportunities."
The minimum investment in the bond was £50. It will pay interest of 4% gross per year, with a six-year term repayable in full on March 15, 2025.