Ambitious plans have been unveiled for a unique tourist attraction on Bristol's Harbourside featuring a glass cabin hoisted 69m above the city to give visitors panoramic views.
The city-based company behind Arc Bristol, pictured, believe it will attract 250,000 visitors a year. The glass cabin will be suspended between two super-strong carbon fibre masts, lifting 42 passengers into the sky on each trip and taking them on a magical 20-minute scenic 'flight'.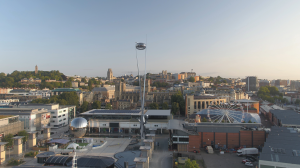 If it gains planning consent, Arc Bristol would be sited in Millennium Square alongside the city's We The Curious science centre from the spring of 2022.
Passengers would be gently lifted as its two masts pivot on a 3.2-metre diameter which would be the width of two Minis side-by-side.
The sophisticated technology  is designed by some of the UK's leading engineers, according to Arc Global, the company behind the project.
Its sole director is Bath-based architect Nick Stubbs, who announced a similar attraction, called the Aqueye, in Bath four years ago.
That scheme, which would have soared over the World Heritage city, was abandoned after complaints from residents.
It said its Arc Bristol – whose design is the same as the Aqueye – would give visitors 360-degree views of Bristol's amazing historic sites with an accompanying pilot on-board to explain the city's history and the importance of the heritage sites passengers will see.
The plan has been welcomed by We The Curious' chief executive Donna Speed. She said: "Arc shows how when existing technology is reimagined and combined with ground-breaking engineering the results can be dramatic and inspiring.
"We were blown away by the designs and the potential to view our city in a new and truly unique way. We are delighted to host the consultation events in October to explore the possibilities for Bristol."
Destination Bristol chief executive John Hirst also welcomed it. He said: "Bristolians are rightly proud of their beautiful city with its remarkable engineering history. Visitors come from all over the world to see Bristol and its many attractions.
"Arc will bring a new iconic landmark, something totally unique and a global first. This is great news for Bristol, it will really put our city in the international spotlight once again."
Arc project manager Alice Ellis said: "Bristol has a unique maritime and engineering legacy… Arc will tell that story in a new and really exciting way which showcases Bristol's unique history and reputation for innovation."
Arc Bristol is holding a public consultation and exhibition of its proposals, before submitting a planning application to Bristol City Council.
The proposals will be on display at We The Curious, on Wednesday October 16, from 2pm to 8pm. Everyone is welcome to view the plans and provide their feedback as part of the public consultation before a planning application is submitted later this year.
Details will also be on Arc's website www.arc.global for feedback.