Major long-term development opportunities worth an estimated £10bn, including regeneration of the Cumberland Basin, are to be showcased next week as Bristol makes its strongest case for investment in years at the MIPIM global property summit.
Mayor of Bristol Marvin Rees along with West of England Metro Mayor Tim Bowles and a delegation of business leaders and property firms, plan to meet more than 50 potential investors at the event in Cannes.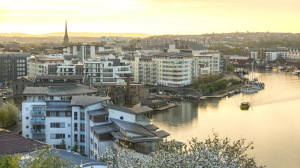 MIPIM, which lasts from Tuesday to Friday, is the world's largest gathering of its kind, attracting around 24,000 delegates including investors, developers, local authorities, members of the property and real estate industry, and media.
Bristol's presence and activity at the international event will focus on the city's key strategic investment opportunities at Western Harbour (Cumberland Basin) and the Temple Quarter Enterprise Zone. 
The mayor will also network with potential investors to outline other major infrastructure developments in the city including housing and regeneration and longer-term projects such as a new mass transit system.
Mayor Rees will host a series of events and receptions aimed at putting Bristol's schemes in the spotlight, accompanied by representatives of North Somerset and South Gloucestershire councils, the region's universities, Bristol Airport, Business West, law firm Burges Salmon, property agents JLL and GVA and civil engineers Arup.
Temple Quarter is one of the largest urban regeneration projects in the UK and is already home to a thriving business community made up of global brands in state-of-the art commercial buildings to entrepreneurs and start-ups in the widely acclaimed and growing business incubators Engine Shed and SETsquared. 
The University of Bristol is to build a new £300m campus on the site next to Temple Meads railway station.
Bristol's Western Harbour, currently dominated by the Cumberland Basin flyover, is another area of huge potential. Mayor Marvin Rees and colleagues will explore ideas to bring more affordable housing to the city centre by extending the harbour as a residential area to the west, developing the land on both sides of the Avon, and replacing the existing road system with a new bridge at a lower point.
Bristol is one of several UK core cities attending MIPIM, including Manchester, Birmingham, Glasgow, Nottingham, Sheffield, Newcastle and Cardiff. However, unlike most Northern cities, Bristol has had a small presence at MIPIM for the past few year.
Mayor Rees said: "I'm very proud to be showcasing all that Bristol has to offer at MIPIM – a global event that attracts the world's leading investors and developers.
"Bristol is developing a global reputation as an economically successful city and a fantastic place to live and work. We have ambitious plans for our city in terms of house building, regeneration and transport infrastructure, in order that Bristol's success is shared by everyone.
"There are a number of really exciting opportunities, from Temple Quarter to the Western Harbour, where we are looking for major investors to come on board and help us make these plans a reality."
Gordon Isgrove, regional senior director of GVA's Bristol office, is attending MIPIM along with Bristol-based Jo Davis, GVA national head of planning and development.
Gordon said: "Our role will be to highlight the West of England as a focus for international investment. In fact, at least £10bn of investment opportunities within the combined authority area will be on the table.

"Along with other UK regions, the West of England is competing for the attention of potential investors, and this is the opportunity to get in front of decision makers to highlight the massive potential for fulfilling our ambitious plans for the region."