The UK's first fleet of autonomous buses are now in service and carrying passengers – bringing to life cutting-edge technology developed by a team of Bristol engineers.
Operating on a 14-mile route at up to 50mph between Fife and Edinburgh, the service operated by bus group Stagecoach uses automated drive systems from Fusion Processing, the world leader in designing and building autonomous vehicle technology.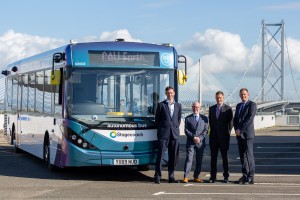 Since its launch in 2012, the firm has become a world leader in automated driving systems, situational awareness and control systems technology. Its products have clocked up more than 2m kilometres of service.
Based at Future Space, the tech innovation hub on UWE Bristol's Frenchay campus, Fusion Processing is part of the CAVForth project, a partnership with Stagecoach Group, Alexander Dennis, Transport Scotland, Napier University and the Bristol Robotics Lab.
The project is using Fusion Processing's control and sensor system, which is controlling the autonomous buses as they journey from a park-and-ride in Fife, across the Forth Road Bridge to Edinburgh Park station.
The firm's technology enables the five single-decker buses to travel at up to 50mph on the route, which Stagecoach says has capacity to handle around 10,000 passengers a week.
The Alexander Dennis Enviro200AV buses can take on complex traffic manoeuvres such as roundabouts, traffic lights, and weaving between motorway lanes.
Fusion Processing founder and CEO Jim Hutchinson, pictured above, left, at the launch of CAVforth, said: "We saw that disruption was coming for the industry so we developed a start-up that would shape the future of automotive technology.
"We were the first to look in detail at the difficult problems the industry faced in taking this leap – such as getting a vehicle to recognise vulnerable road users.
"Our technology can be used on any vehicle, but there is a good commercial need for autonomous systems in the travel and freight industries.
"We're working with professional fleets that are looking at using these systems to improve safety and customer experience while also reducing vehicle emissions."
While Fusion Processing's technology is being used in a number of leading autonomous vehicle trials, including driverless buses, its innovative advanced driver-assistance system (ADAS) products are also replacing cumbersome wing mirrors on HGVs and buses with high-resolution optical cameras.