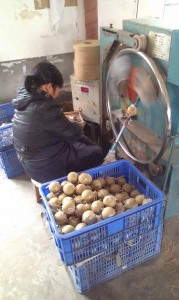 A team from Bristol fireworks company Skyburst is back in Britain after mounting a cutting edge, computer-programmed display to mark the end of the Chinese New Year in Liuyang, Hunan Province – the fireworks capital of the world. The show – which was mounted at the personal invitation of the mayor of Liuyang – took 14 people from the UK and 12 local technicians three days to set up and the results were spectacular.
Managing director Alan Christie said: "It was a great thrill and although it was a little too smoky for our liking because of the weather conditions it was a great experience working together with the Chinese technicians who are the best in the world."
The visit was also a buying expedition with Alan touring Liuyang firework factories to source Skyburst's needs for the Diamond Jubilee, Olympic celebrations and other major displays.
He said: "There will be a lot of displays this year so we were looking at fireworks using nitrocellulose that create really bright vibrant reds that will stand out on lighter summer evenings, as well as coloured smoke which adds a great effect."Skyburst designers create their displays using a special computer programme, often communicating their requirements to Liuyang colleagues over the internet, receiving videos of the finished results when they are created.
"The Chinese make the fireworks to our specifications and timings have to be very precise when you set them to music," said Alan. "Sometimes things get lost in translation when you are communicating over such a great distance so sometimes we need to meet face to face and discuss the technicalities."
Skyburst has also ordered a new range of fireworks in pastel colours for Bonfire Night displays in November. They will be brought from China to the UK over the next few months and put into secure storage with the first batch due in May.
Alan said: "It was a great honour to perform a Chinese New Year display in such a famous firework city – and it was fantastic to develop our relationship with the best manufacturers in the market."
Skyburst stocks a large range of fireworks at its shop in Bedminster with experts on hand to help people make the right choice.