Armchair sports enthusiasts bored with a lack of live games due to the Covid-19 pandemic can thank a Bristol production firm for bringing some as-it-happens online activity to their screens in the shape of a professional darts tournament staged in the player's own homes.
Loop Productions, based at the city's Bottle Yard Studios and a specialist in live streaming, is busier than ever despite the devastating impact the lockdown is having on its traditional market.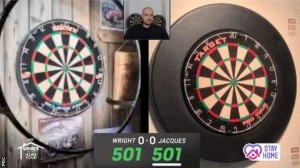 The firm has become the leader in virtual sport broadcasting by devising a solution that enables professional sportsmen and women to compete in live events from their own homes.
The first sports organisation to stage an event in this way is the Professional Darts Corporation (PDC), which is holding its Home Tour Darts tournament – hailed across the world as the first event of its kind to bring back live professional sports viewing during lockdown.
The 2020 Unibet PDC Home Tour streams elite level darts from the living rooms of the pros to fans worldwide via live video calls, pictured.
The tournament, which got under way two weeks ago, is open to all PDC Tour Card Holders. Four players are in action every night using their own dart boards in their own homes.
They compete against each other once in matches played over the best of nine legs, with a winner crowned each night. After the 32-nights league round, 32 group winners will advance to a second phase of the competition, beginning on May 19.
Players and pundits take part using video conferencing software on their phones or laptops, with the feeds taken into Loop Productions' vision mixing hardware.
For players, it is simply a matter of pointing their device at the board in their living room, shed or hallway and connecting to Loop's system. The live coverage from each players' camera is mixed with on-screen graphics and commentary by the live directors.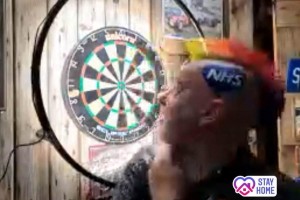 On the opening night, current PDC World Champion Peter 'Snakebite' Wright, pictured, told the BBC: "It beats watching the news and all the horrible things going on around the world – so we're going to have a bit of fun with darts."
Behind the scenes, a great deal of work goes into making the unique event happen. Loop's production engineer Adam Young says; "It's been a busy couple of weeks, which nobody would have predicted at the start of this crisis, but we've been working hard to fill the vacuum where normally we'd be producing a lot of sports content at this time of year.
"We're using two locations in Bristol to bring together all the video feeds that go into the live production of darts.
"To comply with distancing regulations, our two live directors each have hardware vision mixers at their respective homes. Given that the event lasts 32 consecutive nights and is streamed and broadcasted around the globe, we needed to split workload between the team!"
The Loop office at The Bottle Yard in Hengrove acts as the hub for the live graphics. Working with third-party data providers SportRadar, Loop utilises the IT infrastructure at the studios to provide a secure connection to the SportRadar servers.
A SportRadar operator takes part in the video conference remotely so they can keep up with the action. Data from SportRadar is received at The Bottle Yard and passed on to the vision mixer back at their home gallery.
Adam added: "We've thoroughly road-tested our workflow for the past three seasons on the PDC Pro Tour, but normally we are at the same venue.
"We wouldn't normally choose to be reliant on the cameras, microphones and lighting equipment that sportspeople have in their houses, so a lot of quality control goes into ensuring the best outcome for all 128 players who are taking part in the PDC Home Tour."
Two weeks in and the tournament is proving to be a hit with viewers om international broadcasters such DAZN in the US, Sky Sports in the UK and Fox Sports in Australia.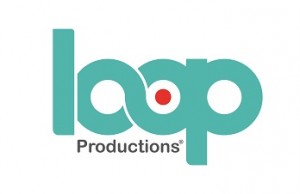 The service is also live streamed to the PDC's dedicated PDC.TV service and to bookmaker websites around the world.
While lockdown forces broadcasters to seek new ways to produce content, Loop Productions is now receiving interest from other potential clients around the world.
"The tournament has been attracting attention from other top sporting bodies and we're now in talks to produce coverage of new competitions," said Adam. "It seems darts is not the only sport that lends itself to being played in isolation."
Loop Streaming and Productions has a team of five based at The Bottle Yard, coupled with regular freelancers across the country. The three-year firm moved to the studio complex last year after a two-year period of rapid growth led to it outgrowing its previous base in Clifton.
It handles live productions at a fraction of traditional broadcasting costs by using cutting-edge technology that combines IP-based networked vision mixers, robotic and manned cameras and fully bespoke graphics packages with linear television and online encoders.
This removes the need for large outside broadcasting trucks and expensive satellite uplinks.
It works predominantly in the sport industry, with a global client base that includes BBC Sport, Sky Sports, Matchroom Boxing, Eurosport, World Snooker and the Professional Darts Corporation.
It has also worked alongside Facebook, London nightclub Fabric and a number of TV shopping channel.
Loop is one of more than 20 on-site tenants at The Bottle Yard offering a host of services to the film and broadcast industry including creative, digital, technical and audio/visual expertise, grips, transport, structural, fire and safety assistance.
The Bottle Yard Studios is also a major film and TV production site. Recent productions shot there include Poldark (BBC One), The Trial of Christine Keeler (BBC)and Broadchurch (ITV).
Top image courtesy of PDC.