A communications package has been developed by two Bristol communications specialists to help businesses ensure they are in the best position to recover from the coronavirus outbreak.
The 'Review and Reset' package is the brainchild of two local Karen White and Catherine Frankpitt, pictured.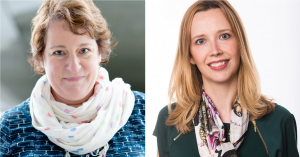 They have brought their PR consultancies – Strike Communications and Karen White Communications – together to offer the service as businesses start to prepare for the end of the lockdown.
They are also donating 15% of their fees to the charity Fare Share, which aims to reduce food poverty in the UK.
Catherine, the former director of communications & creative strategy at UWE Bristol, said: "Covid-19 has changed the way everyone is living and working and that is going to continue for a significant length of time.
"Organisations will need to look closely at their communications strategy and activities for the next year – it is very likely that they will need to be refocused.
"What we are communicating and the way we are doing it has changed with our customers, partners and employees."
Karen, who is also a director of Bristol communications agency JBP, added: "We know that most businesses' number one concern right now will be financial, which is absolutely right at this point. But in order to stand the best chance of surviving and thriving, they will need to ensure they have the right communications plan to support them.
"We've created this package as we think it offers a cost-effective solution that will help with their recovery."
The three-step package will look at the business or organisation's existing strategy and collateral, review how the landscape in which it is operating may have changed and give recommendations on to how to move forward.
Catherine has worked with large and small businesses across a broad range of sectors during her career, including sustainability and tech; she also led the communications campaign for the £48m redevelopment of Colston Hall. A former member of the CBI South West Council, she is currently a trustee of Bristol & Bath Parks Foundation.
Karen founded her own consultancy six years ago after working both in agencies and in-house for 20 years, including managing corporate communications across Europe, Middle East and Africa for weight management and nutrition company Herbalife.
She originally trained as a journalist, and still considers media relations and crisis communications two of her key strengths. She has led on large community engagement projects for clients including Sainsburys and National Grid and has specific expertise in the healthcare, charity, recruitment and arts sectors. She is part of the Institute of Directors senior team in the South West and a trustee of Bristol Museums Development Trust.