From Bristol 24-7 www.bristol247.com
Bristol's new currency, the Bristol Pound, was officially launched today with more than 300 shops and businesses already signed up to use it.
The launch of the scheme, the largest of its kind in the UK, was marked by a ceremony at the Corn Exchange in Corn Street when the Lord Mayor, cllr Peter Main spent the first Bristol pound at food hall and café Source.
The Bristol Pound is the first local currency to be implemented across a major UK city and supported by a financial institution – the Bristol Credit Union. It also has an electronic payment system that allows shoppers to pay traders using their mobile phones.
Bristol Pound director Ciaran Mundy said: "This is a truly historic occasion for the city of Bristol/
"As more and more shoppers and businesses spend the Bristol Pound, it will keep more of people's hard-earned wages in our communities to be spent again.
"People in Bristol who love the range of independent traders will be putting their money where it matters and reduce the need for lorries constantly moving goods up and down the country. The scheme is also a powerful way to promote local businesses trading with each other."
Mr Mundy added he expects about 1,000 businesses to be accepting the new currency before the end of the first year.
Bristol City Council will accept the Bristol Pound for paying rates. Cllr Guy Poultney said: ""Bristol has a successful independent retail sector and thriving high streets which we want to support and grow. The Bristol Pound will provide a real boost to the city's independent businesses and traders.
"I look forward to seeing the Bristol Pound's progress across neighbourhoods and high streets throughout the city."
The first set of paper Bristol Pounds are to be displayed at the city's M Shed Museum.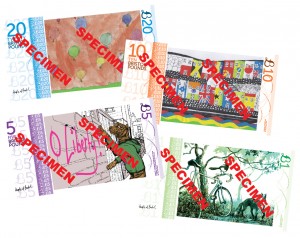 Visit www.bristolpound.org for more information.