Bristol's standing as one of the UK's most innovative cities has been recognised in a major new report which also highlights the strength of its economy.
The latest report from respected urban think tank Centre for Cities places Bristol ninth in the table of the leading UK cities for the number of patents granted per 100,000 population as an indicator of innovation. Bristol is also in the top 10 for the rate it creates new businesses.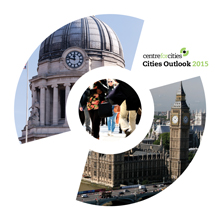 The Cities Outlook 2015 assesses the 64 largest cities and towns in the UK against a range of economic indicators.
Now in its eighth year, the report sets out Bristol's strengths across a number of other key economic areas including:
Business Growth:  Bristol is one of the top ten cities in the UK for business growth. Between 2004 and 2013 the number of businesses in the city increased by 22.8% against a UK average of 15.5%.
Homes:  Bristol also features within the top ten cities for the growth of the number of homes in the city, rising 9.8% between 2004 and 2013 against a UK average of 7%.
Jobs: Cities in the South had 12.4 per cent more jobs in 2013 than they did in 2004, far outstripping the 0.9 per cent growth seen in cities elsewhere. Bristol's jobs growth was in the 0.1% – 6% range – against a UK average of 5%.
Skills:  Encouragingly Bristol is among those cites with the lowest number of residents with no formal qualifications. The number of those without formal qualification has risen by just 6.2% against a UK average of 9.5%.
Mayor of Bristol George Ferguson, who spoke at the launch in London on Monday, repeated his call for the Government to devolve more spending powers to Bristol.
He said:  "This year's Cities Outlook report shows a solid performance for Bristol, indicative of our work to build resilience across a number of economic areas.
"So while we see a slight decline in some results year-on-year, overall we are still performing well against the national averages and continue to dominate as one of the major English cities outside London.
"However, we are far from complacent and are eager to do more, particularly in areas such as skills and affordable housing. But in order to truly meet our ambitions we are calling on central government to release the necessary powers to help us further unlock our potential as a city region – so that we can benefit all those who live in the city region."
Bristol Chamber of Commerce and Initiative at Business West executive director of James Durie added: "The latest Cities Outlook report paints a positive picture for Bristol, underlying its position as a strong performing city region economy.
"The findings show that over the last decade the city region ranks in the top ten cities in the UK for both growth of the number of businesses and patents granted by 100,000 people, showcasing its renowned environment for innovation and creativity. However, this news should spur a renewed appetite for long term balanced growth rather than short term celebration.
"As a leading European City region with a high performing, increasingly knowledge intensive economy and growing population we are working to achieve and showcase sustainable urban living to other towns and cities in the UK and beyond – and do so this year as 2015 European Green Capital.
"With a General Election looming and devolution at the top of the agenda, we do need a holistic approach from local leaders in the wider Bristol area who are willing to take the next step if we are to best position this area to create the prosperity and healthy futures for all those who live and work here. This is our time to seize this opportunity and this report only adds fuel to this fire as we look towards May and a new government."