National law firm Ashfords has appointed Bristol office partner Rory Suggett as head of its corporate team.
Rory, pictured, takes over the role from Andrew Betteridge, who continues as the firm's wider commercial services division head and executive board member.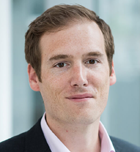 Rory, who joined Ashfords in 2007, has extensive experience in venture capital, private equity and merger and acquisition (M&A), acting for companies and institutional investors as they seek to scale businesses as well as serial acquirers.
He recently acted on the sale of London-based subscription-based recipe box service Simply Cook to global food giant Nestle and for private equity-backed German technology-driven brand platform AlphaPet Ventures on its acquisition of West Sussex pet food brand Arden Grange.
Over the past year Ashfords' corporate team has also worked on Pennon's acquisition of Bristol Water for an enterprise value of over £800m and helped secure London-based cloud-native payment technology provider Form3's $160m Series C investment, led by Goldman Sachs.
Rory said: "It will be a privilege leading such a talented and hard-working team. The last year has seen very strong activity levels and the team has helped clients deliver a number of stand-out transactions.
"I'm looking forward to building on this platform and working with our fantastic clients as they look to the future."
Ashfords, which employs around 500 people across its offices in Bristol, Exeter, London, Taunton, Tiverton and Plymouth, was recognised by Experian MarketIQ as one of 2021's most active legal advisers by volume in the South West and in the UK top 20 – a position it maintained in the first quarter of this year.
The firm was also the only South West-headquartered firm to rank by deal value in the South West in 2021, demonstrating the corporate team's increasing profile in the mid-market, both regionally and nationally.
The team has expanded in recent years with the appointment of partners Kim Hawkins, a former energy infrastructure fund general counsel and Andy Young, who joined from Herbert Smith Freehills.
Ex-Notion Capital general counsel Jon Groves and ex-BUPA M&A lawyer Tom Storey both rejoined the team from in-house positions.