Independent asset management firm BOOST&Co has officially opened its Bristol office to offer growth capital to fast-growing and hi-tech small and medium-sized businesses across the South West.
The office, in Orchard Street in the city centre, is led by principal Lauren Couch, pictured, who has 17 years' experience in banking and private equity. 
BOOST&Co, which offers loans ranging from £2m to £10m, has already been active in Bristol, successfully investing in a number of the city's SMEs including BaseKit, which sells website-building software to small businesses.
The firm has a strong track record in software, medtech, adtech, internet and life sciences – but its venture debt and invoice-financing products are available to businesses in all sectors.
It will use its new Bristol base to build on existing relationships while seeking more local companies in which to invest. The firm also has branches in London and Manchester – which opened just 10 weeks before the new Bristol base – and further UK outposts are expected to open by the end of 2019.
Lauren said: "Bristol is unique and forward-thinking, just like BOOST&Co.
"We want to offer a true alternative to traditional finance and give flexibility for businesses to grow without restriction. I'm excited about leading BOOST&Co in the South West and helping great companies in the region to achieve next-level growth."
BOOST&Co partner Lance Mysyrowicz added: "We have invested successfully in SMEs in the South West in the past few years, but our coverage of the region has been limited for lack of a local presence.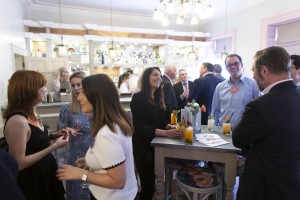 "Opening a new office in Bristol demonstrates our commitment to building on this success and will help to service innovative SMEs in the region better."
The Bristol office opening was marked by a drinks reception, pictured, at The Florist on Park Street for key figures from Bristol's corporate finance community.