National accountancy group Grant Thornton's head of employee benefits Ben Rowntree has been promoted to partner and has relocated from London to join the firm's Bristol office.

Ben, pictured, who heads the national consultancy team supporting 120 clients, has more than 20 years' experience in people advisory roles.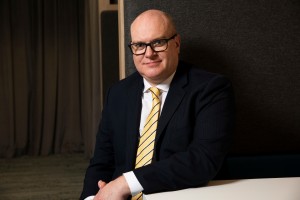 He joined Grant Thornton four years ago having previously worked for Gallagher Employee Benefits, HSBC and Jardine Lloyd Thompson, advising clients on UK and global employee benefits.

His team at Grant Thornton supports client's organisational goals by creating employee benefits packages that seek to attract, motivate and retain talent in a tax-efficient way.

The firm said his move from London to Bristol reflected the dynamism and potential of the South West economy.

Ben said: "I am incredibly proud to progress to partner at Grant Thornton and continue to head-up the employee benefits side of the business.

"It's an incredibly exciting time for the firm as the scale of investment by businesses in the South West continues.

"Business leaders have proven themselves to be resilient, agile and innovative where we've been helping clients focus on moving forward with confidence – ensuring a level of flexibility in their plans to allow them to respond quickly to market changes as needed.

"As head of the employee benefits consultancy practice I work with a group of exceptional benefits professionals, all with a wealth of experience and dedication to providing excellent service and outcomes for our clients."

He said the team worked collaboratively with business owners to deliver the best options for their employees, and lockdown had an interesting impact on this as people's working patterns shifted.

"Because of this, we've dedicated research into understanding what people want," he added.

"We realised that previously there was a trend to select benefits for middle-aged senior managers such as life insurance and income protection, but the modern workforce is diverse.

"We have seen an increase in interest in perks such as tech insurance, menopause cover and fertility treatment to cater for the changing needs of employees."

Grant Thornton partner and practice leader for Bristol and South West, Jonathan Riley, said: "We are thrilled for Ben as he progresses to partner.

"His extensive years of experience in the sector as well as his understanding of the shift in focus of employee needs means we will continue to offer our clients in the South West and Wales advice on a wide array of people matters to help their businesses thrive."

Ben's promotion coincides with a record number of new starters at the Bristol office this year. Grant Thornton said the two school leavers and 19 graduates joining the team reinforced its commitment to developing the next generation of talent.