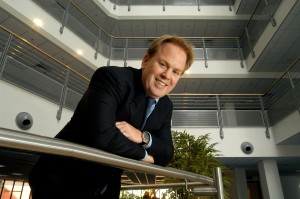 Sentiment in the Bristol office market has declined markedly since the summer according to GVA's quarterly regional office market review, The Big Nine. But this lack of confidence does not reflect reality, according to Ben O'Connor (pictured), regional head of GVA's Bristol office.
"The final quarter of 2011 was boosted by the letting to Creston of 27,400 sq ft at Temple Quay, one of the top five city centre deals nationally quoted in The Big Nine report," he said, adding that while lack of confidence in what remains a steady market is accentuating a state of continued unease, "the reality is that, despite slow progress with deals across the board, transactions are not letting up".

Nevertheless a number of cities across the UK, including Bristol, are in the position where take-up is going to be reduced as a result of the lack of future supply. "In some cities this is already feeding through to headline rent increases although we haven't yet seen that in Bristol where headline rents are staying firm at £27.50psf," he said.

"The availability of just 300,000 sq ft of Grade A stock in the city, out of a total of over 2m sq ft, leads to the creation of a two-tier market. With little development, grade A supply continues to tighten, while secondary property remains in plentiful supply. There are some significant leases, originally taken out 15 – 25 years ago, coming up for renewal in the city over the next 12 months, adding to the potential availability of good quality, secondary stock and, more importantly, some major corporate occupiers looking for new space in the future.

"There are currently some excellent deals around on secondary stock so, for companies looking to move, 2012 may be the year to do so as the same opportunities may not be there in 2013."

Ben advises that occupiers should be looking out for incentives such as 24 to 36 months' rent free on a 10-year lease with no breaks or between 18 and 24 months' rent free if a five-year break is preferred. Cash-back contributions or a combination of cash and a rent free period are also being offered. Landlords are also considering capital contributions towards fit outs, such as carpets and floor boxes.

Out of town activity continues to bolster the offices market in the South West, with developments such as Bristol and Bath Science Park which is now catching the attention of occupiers following its completion in September 2011. The South West continues to maintain a steady position compared to other UK regions.

Following the completion of Bristol and Bath Science Park 1 and The National Composites Centre the only commercial development coming forward in the city is at Harbourside where 50,000 sq ft is being built in total, of which 25,000 sq ft has been pre-let to CMS Cameron McKenna.

Prime out-of town rents in Bristol remain at £21.50 psf.

The Big Nine report, which reviews Q4 of 2011, highlights how city centre and out-of-town take-up in the nine GVA regional office centres recorded take-up of 1,526,000 sq ft. The out of town market made up 36% of this total, with 549,000 sq ft. The former was 4% down on the quarterly average with the latter 2% down.