An office block in central Bristol has been named as one of the world's healthiest workplaces in an international awards scheme that showcases the role working environments play in employee wellbeing.
The Paragon, pictured, a 75,000 sq ft, six-storey building on the corner of Victoria Street and Counterslip, is home to law firm Thrings, accountancy group EY, stockbrokers Brewin Dolphin and global insurance consultancy Marsh & McLennan.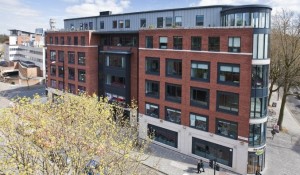 Its ground floor retail units are occupied by Bristol-based café chain Friska, Pret and a Tesco Express.
When opened in 2009 it was hailed as one of Bristol's 'greenest' office buildings and was designed to meet the highest environmental standards of the time.
Now the building, in which around 350 people are employed, has scooped a top award for its healthy working environment.
It won a two-star Fitwel Certification at the Best in Building Health Awards, gaining 106 points out of a possible 144 – the highest score in all assessments of buildings of its kind across the world
Fitwel is administered by the US-based Center for Active Design as the world's leading building certification focused on promoting healthy buildings and communities in a vision for a healthier future.
By winning the award The Paragon joins the likes of global publishing giant Bloomberg's New York HQ among the world's best buildings for promoting good health.
The Paragon, which is owned by London-based property investment group Lothbury Property Trust, strongly supports cycling as a healthy lifestyle and sustainable means of transportation for occupants with plentiful bike storage, showers and repair services, promoting a healthy lifestyle and sustainable means of transportation for occupants.
Other measures include standing desks, signage at lift call points to encourage stair use and weekly fresh fruit delivery. Users also benefit from water bottle refill stations, excellent levels of natural daylight with operable shading and high air quality.
Alexander Steel, ESG (environmental, social and governance) manager at Lothbury Investment Management, which advisors to Lothbury Property Trust, said winning the Fitwel award demonstrated the highly sustainable credentials of the building.
"Lothbury is committed to investing, managing and developing sustainable property, including the improvement in health and wellbeing performance. We are continually looking at ways to be more sustainable at both a corporate and fund level," he said.
"We aim to achieve our sustainability objectives by improving core portfolio assets, like The Paragon, responsibly developing building and construction projects and by assessing the merits of all future acquisitions.
"Improvements are sought to increase efficiencies within our real estate portfolios to address the environmental challenges we face, including climate change, as we progress on a pathway towards net zero carbon."
Center for Active Design president and CEO Joanna Frank added: "The Paragon has realised a significant achievement as the highest-scoring Fitwel v2.1 multi-tenant base building project to date, earning it recognition as a 2020 Best in Building Health award winner.
"As the first firm to achieve Fitwel certification in Bristol, Lothbury Investment Management stands out as a leader in prioritising the health of their occupants."
Lothbury Property Trust bought The Paragon in 2014 for £29.45m from European specialist investment manager Invesco Real Estate. It was built by Bristol-based Cubex, the property developer behind the successful Finzels Reach regeneration scheme on the other side of Counterslip.