Nu Desine, the Bristol firm behind the revolutionary AlphaSphere electronic musical instrument, is to take part in a pitching event with a royal twist.
The firm, based at Bristol's SETsquared innovation hub, has been shortlisted to take part in Pitch@Palace, a project spearheaded by the Duke of York and taking place at St James' Palace on November 5.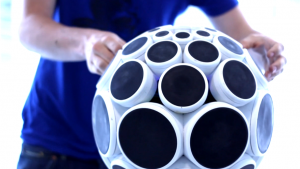 It will culminate in 14 of the UK's brightest science and technology start-ups pitching for investment live in front of hundreds of the biggest names in business.
Nu Desine has already created waves across the globe, winning the UKTI's Exporting for Growth competition and clinching Stuff Magazine's Design of the Year award.
Founder Adam Place said: "We've been so happy with the reception the AlphaSphere has received already in such a short amount of time, and this a fantastic opportunity for us. We're hoping to win the spot to pitch at the Palace and if we do we may even try to rope a few royals into trying it out themselves."
The event is being partnered by SETsquared, the highly-successful business incubator backed by the University of Bristol. Two other SETsquared businesses – Smart Antenna Technologies from bath and Fourth State Medicine from Surrey – are also taking part.
The three were selected to take part in the first phase of Pitch@Palace, when they were given investor-readiness training, one-to-one business support and pitching advice.
Earlier this week they then went through a judging process at a boot camp at Microsoft's offices.
SETsquared innovation director Simon Bond said: "We are incredibly proud of all the start-ups we work with, all of which have some fantastic ideas and technologies that have the potential to turn into highly-profitable businesses. However these three really shone and we believe they are in for a great chance at attracting investment and useful contacts."
HRH The Duke of York added: "I truly believe that the UK has the best scientists and engineers in the world – they create valuable intellectual property that can be exploited by entrepreneurial endeavour. There must be a common acknowledgement that entrepreneurs will drive growth and be the wealth creators of the future.
"Pitch@Palace is not just about investment. It's about knowledge and the transfer of ideas; it's about networking, mentoring and advice. I cannot say how proud I am of the work everyone has done, and the collaboration it has engendered."
To find out more visit www.pitchatpalace.com