A rapidly growing company which manages students' household bills has set up its head office in Bristol and relaunched under a new brand.
Formerly known as Easy Student Living and based in Leeds, The Bunch oversees students' energy, water, TV and wi-fi bills, saving them time and money.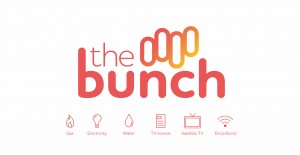 The company was founded in 2017 by then University of Leeds student Elliott Herrod Taylor after he completed a Massachusetts Institute of Technology (MIT) Global Entrepreneurship Bootcamp.
It now operates in more than 17 UK cities across the UK with a large presence in the high student population cities of Leeds, Manchester and Bristol.
Bristol was chosen for its HQ due to its large student population, favourable SME environment and large rental population with many of the city's younger population living in shared properties. The firm has relocated from the Leeds Innovation Centre to an office in Bristol's King Street.
Having started with a strong focus on students, the company has rebranded in preparation for further expansion into the wider rental market. It has already grown its customer base by 1,200% from 205 in its 2017/18 financial year to 2,450.
Founder Elliott, 24, said: "We're really proud of how fast the company has grown among students, clearly demonstrating the high demand for our services.
"This is why we feel confident branching out into the wider rental market. More people in the UK are renting than ever before, often living in shared houses well into their thirties.
"Our services are ideal for those in shared accommodation as we remove all the complications around bill paying, packing everything up into one simple monthly payment, split evenly with your housemates."
The full rebranding includes a new website, app, logo and imagery to mark a new stage in its development.
Elliott added: "We're really excited to have moved to Bristol, which is a fantastic entrepreneurial city and relaunched as The Bunch ready to start building new customer bases."
The Bunch works with a mixture of partners including letting agents, such as Bristol-based Anthony James & Co, and online agents, including Resooma.