Huggg, an app that enables people to treat friends or family to a coffee, cake or drink with a personal message via their phone, is using Bristol as its UK launchpad.
Available for free in the app store, Huggg has partnered with a number of respected food and drink brands in the city including Friska, Turtle Bay, Be At One, burger chain Byron and Society Café.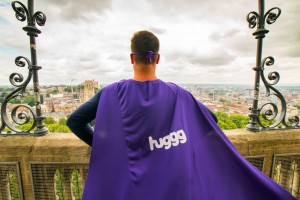 They have been selected by the business's founders to make items from their menus available as 'hugggs' that can be ordered at the tap of a smartphones.
The idea for Huggg was conceived in 2014 when banker Paul Wickers was researching the greeting card market for a deal.
Realising what an antiquated concept a paper card was in the digital age, he began pondering on what could replace it but still bring happiness for a similarly small cost.  
Working with co-founder Alice Cox, he has left his 12-year career in banking to develop Huggg into a user-friendly app which adds an new dimension to instant messaging – fitting in with Paul's initial concept of making it as simple as texting someone a coffee.
The pair used insights into the psychology of thoughtfulness to construct Huggg, striking a balance between immediacy, generosity and thoughtfulness.
Paul and Alice have worked tirelessly since the original concept was agreed to develop the business model and technology required to make it work.
Seed funding was raised through private investment in 2015 with two founding investors, Stephen Jones and Matthew Hunt, who had the vision to back the idea based solely on some early visual-only prototypes.
Alice, who has a background in business management, spent a year working from a laptop in her spare room, while Paul continued with his banking job at Santander in London and Bristol to raise more cash to further drive the project.
Paul would then return in the evening and work on Huggg into the small hours.
In September 2016 the technology was ready, more investment was raised, Paul quit Santander and moved with Alice into Bristol's Desklodge co-working space.
Now ready to launch initially across Bristol and Bath, with plans to roll it out nationally in the next few months, the team are confident their hard work has paid off.
"We want to make generosity easy and we couldn't have chosen a better place to launch this concept than Bristol – voted the UK's kindest city in 2016," said Paul.
"Huggg is such a great and easy way to let someone know you're thinking of them – whether it is as a thank you, a birthday message or simply because you're feeling generous, sending someone a huggg is guaranteed to bring a smile to their face."
After signing into the app, users can buy and send 'hugggs' wherever they are, instantly, via their mobile.  
Alice added: "A huggg is perfect when you want to do something more meaningful than texting someone or leaving a message on their Facebook wall.
"If you want to thank someone for helping you out with something or cheer them up during a tough week, surprise them with a steaming hot cappuccino huggg. It is easy, fun and instantaneous."
Users can download the app and use it to send 'hugggs' to friends, family, colleagues or anyone else they feel deserves a treat, selecting which food or drink item is best suited each time, whether it is a thank-you dinner, a birthday cocktail or a cheering cappuccino. 
"There are points in life where a message alone doesn't say enough, and a little extra thoughtfulness would go a long way," said Paul.
Pictured: The Huggg Hero, who will be giving out hugggs on the streets of Bristol next week