A peer support social network that helps young people struggling with mental health issues has attracted funding of £390,000 from Bristol investors to expand its pioneering work after relocating to the city.
Talklife founder Jamie Druitt's personal experience inspired him to create the app, which tackles issues such as self-injury, eating disorders, anxiety and depression.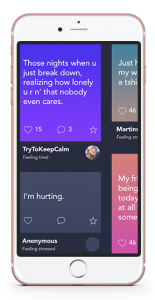 Since its launch in London it has helped 750,000 users in 125 countries and has recently developed a world-first machine learning engine in partnership with Microsoft Research, Massachusetts Institute of Technology and Harvard University, to better identify at-risk users and launch interventions in real time.
Now it is to expand further after raising funding from a group of South West investors, including Pukka Herbs founder Sebastian Pole and Greg Le Tocq of Vouchercloud, and moving its base to Bristol.
Jamie Druitt said: "TalkLife has been growing quickly and we saw Bristol as a fantastic place to establish a base.
"We're only a small local team now but we're a global business so we're delighted to add to the knowledge base in the region. It's also refreshing for us to have investors nearby who can really support us."
Sebastian Pole added: "Everyone wants to be happy, but life often asks more of us than we can manage on our own. So, in our time of complex mental health pressures, we support TalkLife in their pursuit of helping people find a voice in the digital sphere.
"A confidential, discreet and effective listening ear is essential to help people when the going gets too painful."
The TalkLife team was advised on corporate law issues by Charles van der Lande and Philip Edmonds of Bristol boutique law firm Roxburgh Milkins throughout the process, with Shaw & Co providing corporate finance support.
Philip Edmonds said: "We were really pleased to be able to help TalkLife with this next stage of their development, supporting their growth in the area as well as some great technological advances that they have in the pipeline.
"We always enjoy helping people develop amazing ideas, so we look forward to continuing to support them in this journey".  
TalkLife COO Jennifer Russell said the teams at Roxburgh Milkins and Shaw & Co had really helped the firm during this process.
"The funding will allow us to develop beyond our current platform, as we move to support both veterans and university students in 2019," she said.
"We work alongside some of the top universities in the world, so we'd equally love to be able to support the students locally."    
Shaw & Co partner and founder Jim Shaw added: "We are delighted to have helped TalkLife with their recent raise. The business is addressing one of the most fundamental needs in our evolving society with highly innovative and scalable technology. There is certainly an exciting future ahead for the business and one we are delighted to be a part of." 
Suicide is the number one killer of people aged 15-44 across the globe, with the World Health Organisation estimating that approximately 1m people take their own lives each year one every 40 seconds.
TalkLife is a free app to download in the app store.