Emmaus Bristol, the charity helping people out of homelessness and poverty, is to benefit from an £18,000 package of digital marketing support under a programme staged by Bristol digital marketing agency Noble Performs.
The US-owned agency brought the Noble Deeds scheme to the UK last year to help charities and not-for-profit organisations across the South West develop their essential activities.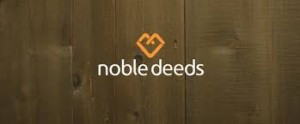 Emmaus Bristol provides a home and support to up to 30 formerly homeless men and women. Known as companions, they also receive training and work experience by helping to run the charity's shops and its other social enterprises.
This enables them to build the confidence and skills they need to secure future employment. To funding and support its vital work, the charity has three shops selling pre-loved furniture, clothes and household items while its Stokes Croft base also has a large warehouse and yard for sorting goods to sell or recycle.
Originally operated by Noble Performs' headquarters in Nevada, the Noble Deeds pro bono programme has helped dozens of US charities over the past decade.
The agency, which opened its first base outside the US in Bristol five years ago, brought the scheme to the city last year, when the winner was Heart of BS13, a South Bristol social enterprise that supports and promotes a healthy, thriving community for Hartcliffe and its surrounds.

This year the prize fund has increased by more than 30% in line with the agency's commitment to dedicate a percentage of its annual turnover to socially responsible activities.
Emmaus Bristol was chosen due to its long-term impact on the community by supporting people out of poverty and homelessness.
The programme, which includes digital marketing support and skills training in area such as SEO, PPC, analytics and paid social, starts this month and runs to February.
Noble Performs performance marketing manager Lorenzo Campbell, who chairs the UK Deeds committee, said: "We love what Emmaus is doing in terms of how it equips people with the skills and experiences they need to build life beyond being a companion.
"In turn, creating a continuous pathway for those facing homelessness and poverty to get back on their feet and create a way forward for themselves.
"The way Noble Deeds works itself is not dissimilar. Our aim is to help charities maximise the impact of their work through digital channels during the six-month programme, while at the same time giving them the skills they need to continue doing so in the long term.
"There is so much potential here with Emmaus Bristol having several elements to what it does – however, knowing where to focus and what activities will have the maximum impact is not easy.
"That's where we come in, helping the in-house marketing team to get that clarity and to build an effective digital marketing programme that will give them maximum return on their efforts."
Emmaus regional communications manager Stacey McDevitt said winning a place on the Noble Deeds programme would help it shape its digital marketing efforts further to boost donations and create new revenue streams.
"As well as our shops and upcycling operations, we also have our online sales team, house clearance service and two new eco-pods for tourists, all raising vital funds for the accommodation and support we offer to help people rebuild their lives," she added.
"This all needs to be communicated to the right audiences by a small in-house team and we hope the Noble programme can help us improve the way we do this.
"Like many charities right now, being able to fund our activities and do everything we need to do can be a challenge.
"Being able to identify and reach the right people who might be able to support us through digital channels is an essential part of this.
"We're looking forward to drawing on Noble's expertise here so we can be really targeted and make sure our efforts create the maximum impact.
"There are so many people who need our help right now in such difficult times financially so the more we can do to support them the better."
To find out more about Emmaus Bristol, click here
For more information about Noble Performs, click here
Pictured outside Emmaus' Stokes Croft shop. Front row, from left: Emmaus companion Kev, Emmaus regional communications manager Stacey McDevitt , Emmaus social enterprise manager Xanne Carey and Noble Performs performance marketing manager Lorenzo Campbell with team members from Noble Performs and Emmaus Bristol