Bristol's innovative and long-awaited Gromit Unleashed project steamed into life today when a train load of the 5ft statues chugged into the city driven by Wallace & Gromit creator Nick Park.
The train was greeted with cheers by a crowd of dignitaries, families and the media as it came to a standstill outside the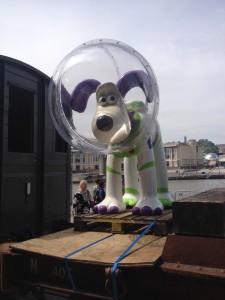 city's M Shed museum. The nine Gromits on board are among 80 that will appear this weekend in locations around the city – bringing a boost to Bristol's tourism industry and a global reflection of its vibrant creative sector.
Taking pride of place towards the back of the train was Gromit Lightyear – designed by US animation studio Pixar – while Nick Park's own Gromit sculpture was accompanied by Wallace.
For 10 weeks from Monday, Bristol will be home to the unique arts trail of the iconic Gromit sculptures. The ground-breaking event has been organised by Wallace & Gromit studio Aardman Animations and Bristol Children's Hospital charity, Wallace & Gromit's Grand Appeal.
The Gromits have been individually decorated by a prestigious line-up of famous names in art, animation, design and entertainment, including Sir Quentin Blake, Jools Holland, Cath Kidston, Sir Paul Smith, Harry Hill, The Beano, Joanna Lumley, Zayn Malik, and The Royal Mint.
Launching Gromit Unleashed at the M Shed this afternoon, Aardman founder Peter Lord said the Gromits would be a boost for the Bristol's tourist industry while reflecting its creative industry.
"You've only seen a few of the Gromits," he told the audience as they mingled among a handful of the sculptures at the M Shed. "I'm lucky, I've seen them all. Well, you ain't seen nothing yet! We can look forward to Gromit-mania."
Over the weekend the sculptures will embark on journeys to their trail locations, delivered by a variety of transport including ferry boat, crane and forklift truck.
Nick Park said: "I still can't quite believe how many amazing artists have come on board and re-created Gromit in so many different guises. I am thrilled to be part of such a fantastic, community event and can't wait to start the trail and do some Gromit-spotting!"
Nicola Masters, director at the Grand Appeal, which has raised £22m for the Bristol Children's Hospital, added: "It is so exciting to see the project finally come to fruition. Bristol is in store for a real treat this summer with Gromit Unleashed set to attract thousands of visitors from residents to international tourists."
Around 40 local artists from Bristol and the region are taking part in Gromit Unleashed and demonstrating the wealth of creative talent in the city with their wide-ranging designs.
For visitors to the arts trail, a Detect-O-Gromit app has been developed and is available on both Apple and Android app stores. The app costs 69p to download, with all profits going to the Grand Appeal. It provides a complete guide to Gromit-spotting and features exclusive audio and film content, including footage showing top Gromit Unleashed artists creating their sculpture designs. A trail map showing all the Gromit locations and trail routes will also be available, and an exclusive range of Gromit Unleashed merchandise can be purchased at selected locations.
On October 3 the Gromit Unleashed sculptures, which have been individually sponsored by businesses, will be auctioned to raise funds towards Wallace & Gromit's Grand Appeal's campaign to support the expansion of Bristol Children's Hospital, one of the leading multi-disciplinary children's hospitals in the UK. To register an interest in bidding, email auction@gromitunleashed.org.uk.
The Grand Appeal is working with Wild in Art, a leading arts and education company which produces mass participation events in cities.
With the support of tourism agencies Destination Bristol and VisitEngland, the project is set to help raise the profile of the city to tourists across the UK and beyond.
The Grand Appeal has pledged to raise an initial £3.5m for state-of-the-art equipment, including an intraoperative MRI scanner, family facilities and child-friendly artwork to enhance the £31m investment by the NHS.