Bristol firms are being urged to build on the city's reputation for sustainable and ethical business by joining the growing band of companies gaining B Corp certification.
The city is now the second largest certified B Corp beacon in the UK, with six certified businesses already. A further 65 are in the pipeline across the wider South West to gain the global sustainable certification, which is regarded as being to business what Fairtrade is to bananas or coffee.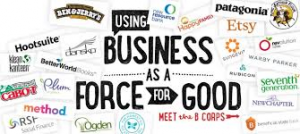 Bristol firms already signed up include Greenhouse PR, Pukka Herbs, Triodos Bank and Neighbourly, the social platform that connects companies that want to make a difference with community projects. Global brands in the network include Natura and Ben and Jerry's.
To become a certified B Corp, companies go through a rigorous assessment of their whole business including their mission, governance structure, and operations. They must achieve the highest standards of social and environmental performance, transparency and accountability.
B Lab UK, the team behind the B Corp certification, is now calling for regional leaders to come forward and support the growth of the South West's sustainable economy and society.
This year B Lab UK will launch the first South West B Leaders training programme to empower those who want to lead organisations through the B Corp certification and work with businesses to measure what matters. 
UK B Corporation movement co-founder Charmian Love said: "Bristol has long been a buzzing hub for social business, and citizens of the South West have a rich history of social campaigning and environmental stewardship, the same values that sit at the heart of the B Corp movement.
"Since launching in late 2015, the B Corp movement has grown steadily in the South West. Change isn't just coming… change is already happening in the South West, and we're excited that the B Corp movement can join with South West businesses who believe that business can be a force for good."
B Corp says research shows consumer prefer to engage with businesses that put purpose before profit with 84% of consumers globally saying they seek out responsible products whenever possible, and 62% happy to switch brands to one that works with 'good causes' from one that does not. 
Pukka Herbs co-founder Sebastian Pole said: "There are so many pioneering ethical businesses based in our home town of Bristol and across the South West that we know this region could be a real asset to the B Corp movement, as well as linking us to a powerful global lobby of over 2,000 other pioneering businesses that share the intent to 'Be the Change'. Watch out world, here we come!"
Neighbourly managing director Nick Davies added: "Citizens of the South West have a long and colourful history of social campaigning and environmental stewardship – values at the very heart of the B Corp movement. 2017 is a year for turning attitude into action and I'm thrilled that B Lab UK are coming by to help inspire our region's brilliant businesses with stories of what it means to 'Be The Change'.
Email darryl@bcorporation.uk for more information on B Corp in the region and georgie.morris@bcorporation.uk for details of the B Leaders training programme.