Four friends from Bristol are appealing to city businesses to sponsor their 3,000-mile Atlantic rowing challenge.
Despite no previous rowing experience, Mark Gibson, Jon Lakin and brothers Steve and Dan Baker, who together form the Nuts over the Atlantic team, are taking part in the Talisker Whisky Atlantic Challenge next December.
The four are taking on the challenge in aid of the Movember Foundation, a global charity committed to promoting men's health and helping them live happier, longer lives.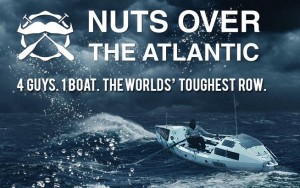 But they also need to attract sponsorship to help with specialist equipment and costs for the challenge, which will see the team spend about six weeks rowing across the world's second largest ocean in a boat just nine metres long.
Friends Mark, 28, and Jon, 29, decided to take on a challenge to raise money for a worthy cause but also to inspire others to believe they are capable of such amazing feats. They enlisted Steve and Dan to complete their crew.
University of Bath graduate Mark, who now works at the Ministry of Defence in Filton, said: "I think a lot of people hear about challenges like this and just think, 'Well there's no way I could do that'.
"But we are just four normal guys, none of us has done any rowing until now, so if we can do it, anyone can.
"We've already got some fantastic business supporters on board but we are looking for more local business sponsors to help us make this dream a reality."
The team is already being supported by David Lloyds Clubs, which is providing the team with all their training requirements and Rex Resorts, which has offered free accommodation when they reach Antigua. Sailfish Marine has provided a state of the art water-maker and Neat Nutrition will be providing the team with the cleanest fuel and latest in nutrition science. 
The team have a variety of investment packages available, all tailored for different levels
of investment and desired benefits.
Jon, who studied at the University of the West of England (UWE) before getting a job with Babcock, said: "This is an amazing challenge to be part of, attracting interest from across the world.
"We will welcome support at all levels."
Last year's Talisker Whisky Atlantic Challenge reached 5.4 billion people globally, had 39 articles across international newspapers and 3,250 pieces of coverage.
In 2016 National Geographic Channel became the global launch partner for two one hour long documentaries on the challenge.
Nuts over the Atlantic are offering to name and brand their boat after their sponsors but will also ensure their clothing and other equipment carries the names of key sponsors.
They will also host a series of talks about the challenge, after completion.
The group have set up a company By The Hundred, through which they hope to take on more challenges in future to empower others to believe no challenge is impossible.
Having joined Bristol Rowing Club, the four men are now training hard on the water and in the gym to build up the strength and muscle needed to survive the six-weeks at sea.
Leaving in December once the Hurricane season has finished, Team Nuts will head west from San Sebastian in the Canary Islands off West Africa and finish in Nelson's Dockyard English Harbour in Antigua about six weeks later.
The team is likely to burn about 6,500 calories during 12 hours of rowing per day each – triple the usual recommended daily energy consumption. They will pack about 60kg of food onto the boat per person, with an additional 20 per cent contingency. All the equipment will take the average 350kg boat to more than 800kgs.
To raise awareness of the challenge and generate support and sponsorship, Team Nuts is embarking on a UK tour of 36 hour non-stop rows, which started in Bristol city centre on Friday, 24th February. Other locations they will visit include Newcastle, Brighton, Cardiff, Birmingham, Edinburgh, Liverpool, Manchester, London.
The team are aiming to raise £100,000 to support the Movember Foundation.
"We have all been touched by cancer and other health issues, having friends diagnosed and losing loved ones," said Mark.
"Until recently there really wasn't a huge amount of support for young men out there. The Movember Foundation, with its focus on prostate and testicular cancer and mental health, has done a huge amount to change this."
The team set up the 100 Club which offers an alternative way for individuals, companies and organisations to pledge their support by donating £100 or more towards their fundraising target.
Those who join the 100 Club can have their name, photograph, company or brand logo displayed live on their website. Donors can even hyperlink to their website, Facebook or Twitter profile.
The 100 Club will then be printed onto Team Nuts' boat, before they cross the Atlantic.
Anyone interested in sponsoring Nuts over the Atlantic can find out more here: http://www.nutsovertheatlantic.co.uk/files/sponsorship-pack.pdf
If you wish to contact the team please send an email to info@nutsovertheatlantic.co.uk.
To help the team reach their fundraising target of £100,000, donate here: