Bristol-based European patent and trade mark attorneys Haseltine Lake has merged with a Yorkshire boutique intellectual property (IP) law firm to create what it is calling a "new powerhouse" for the sector.
The combined firm has created an international business employing nearly 200 people across seven locations – Bristol, Leeds, London, Munich, Glasgow, The Netherlands and Guangzhou in China. 

Haseltine Lake and Leeds-headquartered Kempner & Partners will now trade as Haseltine Lake Kempner, offer services covering all aspects of IP across Europe and Asia.
The firms said they had been operating as a 'close alliance' over the past two years.
Haseltine Lake CEO Rolf Stein, pictured, said: "We see this as a real coup for our clients who have been telling us for some time that they would like us to be able to offer the full spectrum of IP services including litigation and IP transactional support.
"We are delighted that Haseltine Lake's global success has attracted one of the UK's leading IP litigation firms. We very much have a shared ethos and are driven by a common desire to be truly outstanding for our clients.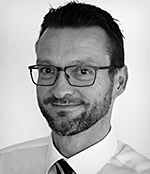 "Over the next few months, we will be showcasing how we are different and how this will benefit our clients and the wider IP community."
Kempner & Partners senior partner Richard Kempner added: "Even though this year has been our best yet, with more clients and more success than we've ever had, the merger is a tremendously exciting move for us.
"It represents the next stage in our growth, development and ability to service our clients' needs. Others have sought to do this by bolting on individuals, but we believe that the better way is to combine two highly successful practices in a genuine merger, so that we can together build a new, joined up, fully integrated practice."